On Thursday, Community Board 2 unanimously rejected New York University's expansion project in the West Village at their meeting in the St. Anthony of Padua Church in SoHo. CB 2's rejection of the plan, while non-binding, is an early setback for the highly controversial "2031 Plan."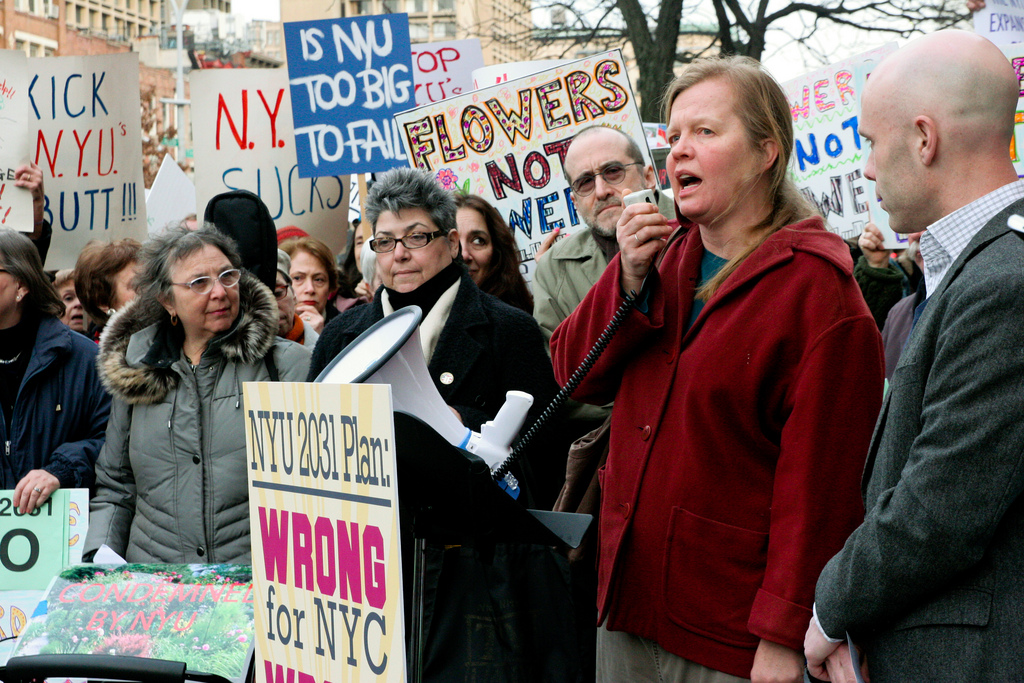 New York University's plan would consist of a $6 billion expansion of properties and facilities, which will take 20 years to complete and involve 2.4 million square feet of new development in a four-block radius bordering West 3rd Street and Houston Street.
With the community board's rejection of the plan, it will now be referred to the city planning commission and then to the city council for an up or down vote. Andrew Berman, president of the Greenwich Village Society for Historical Preservation, expressed a strong desire for the council to heed the voice of the people.
"We want to make sure that those elected officials in the appointed bodies vote this down as well," Berman said. "If they're listening to the public they'll vote it down. If they're listening to some wealthy and well-connected members of the board, they will support it. But we hope that's not the case."
Prior to the community board meeting, roughly 30 people gathered outside the church for a rally protesting the expansion. Several speakers addressed the gathering, including Berman and Democratic district leader Jean Brillo. Brillo suggested that NYU trustee and World Trade Center developer Larry Silverstein move the proposed expansion downtown.
Other speakers expressed a variety of environmental and quality of life concerns. Some strongly objected to the potential damage that "2031" construction would cause to LaGuardia Corner Gardens, which has been maintained by the Village community for over 30 years. All of the rally's participants agreed that they would settle for nothing less then a firm rejection of the plan.
"There's been very little compromise on the part of the university in this neighborhood," Berman said. "If we don't get them to fundamentally rethink the way they've grown, it's going to be death by a thousand cuts."