Through art, New School student chronicles her cancer and treatment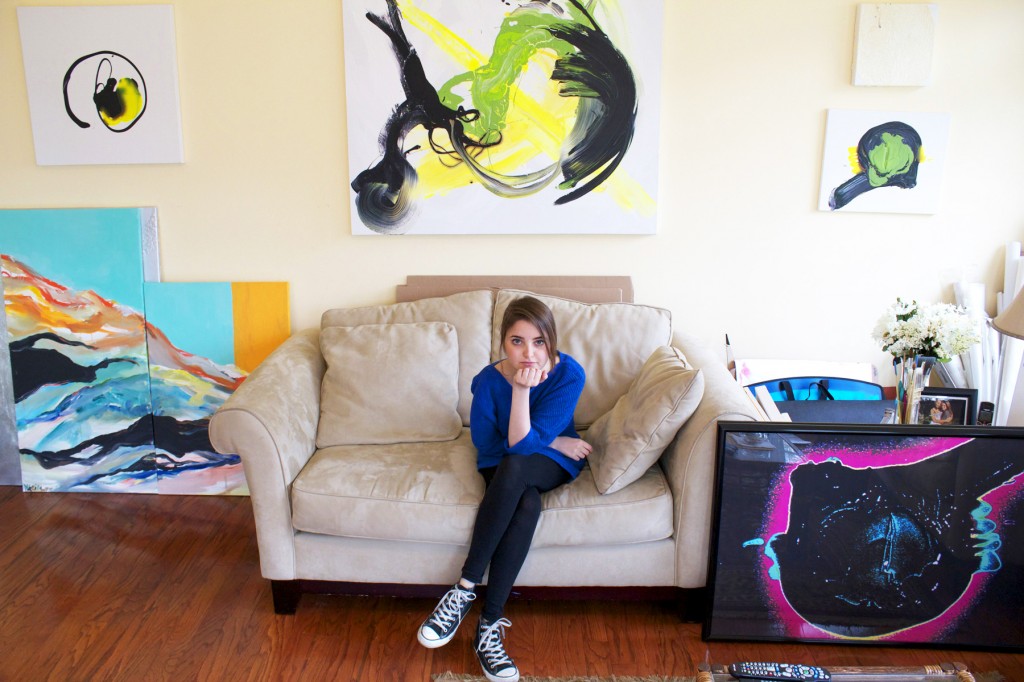 On an afternoon last March, in an isolated corner of a Parsons classroom on Fifth Avenue, Nicki Muller huddled over a canvas, headphones in her ears, applying twisted strokes of paint to a black background. When she finally got up to wash the paint from her brushes, she returned to find her painting professor, Kamrooz Aram, standing in front of her work, studying it with curiosity.
At a glance, the eerie black-and-white painting, "Untitled. [Scan 1, Portrait of a tumor]," could be mistaken for a tornado, a throng of people, or even a skull. Some of this ambiguity was intentional. Muller prefers her work to possess mystery. She likes to let people see what they want to see. But the painting had a much more concrete, personal meaning. As she would explain to her professor, the portrait was based on a medical scan of the cancerous tumor that ravaged her right arm at age 13, but which was seven years in remission.
"They were haunting images," said Aram. "Although one would not necessarily identify them as tumors without knowing her source material."It was her professor's inquisitiveness, Muller says, that gave her the feeling that something was different about this new painting. "I knew something was up… when I caught my teacher looking at my painting when I wasn't looking at it," said Muller. "Whether I tapped into something really great with my painting, or something was gonna happen to me."
But whatever her premonition, it could not have prepared her for the conversation that came six weeks later. In April of 2011, her doctors told Muller that they had discovered a tumor in her brain.
In retrospect, Muller sees the work she made in the weeks leading up to her diagnosis as a harbinger of what was to come. "It was like, if this chapter in my life was over then why I was bringing it up again?" she said.
***
In the months since, Muller has kept herself occupied at a pace most people would consider chaotic. She moved back into her parents' home in Long Island, completed two semesters of college while commuting everyday to Parsons and Lang (she is a BA/BFA student majoring in fine arts and psychology), curated her first solo art exhibition at the NYU Langone Medical Center, contributed fashion designs to the Sisters on the Runway fashion show, and designed one-off projects for friends — all while undergoing continuous chemotherapy and radiation treatments for her brain tumor, a high grade glioma.
Petite and animated with sparkling blue eyes, Muller has light brown hair that falls to one side of her face, exposing a scar at the back of her head. Strikingly unabashed, she will readily show the location where her tumor was removed, or the spot above her left ear where doctors had to re-insert a shunt three times. Although she no longer needs radiation treatment, today she takes a chemotherapy-like drug called Avastin due to her bodies inability to handle chemotherapy any longer.
***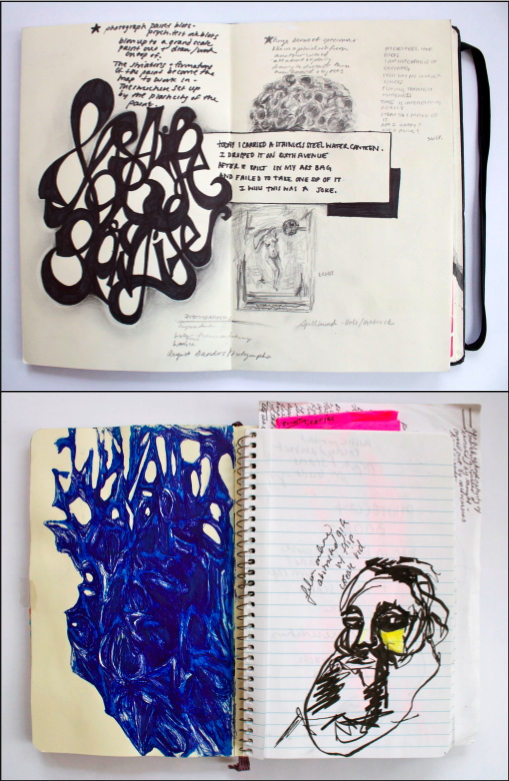 Muller's unselfconscious presentation caught people's attention even before she made a name for herself through her art at Parsons. Nigel Barker, the British fashion photographer and judge on the TV show "America's Next Top Model," was thrown off-guard by this precocious quality when he first met Muller when she was 14 years old through the Make-A-Wish foundation.
Barker remembered trying to direct Muller for a photoshoot on the day they first met — she was one among three girls at the shoot, whose wish it had been to model for a day — in such a way that she would not be showing her scarred arm to the camera. He had hoped to camouflage what he was doing so as not to make her feel awkward about the scar. But instead, Muller picked up on the implicit gesture, responding, "No, I want to do it this way, this is who I am and this is why I'm here."
"It was a revelation to me," said Barker. "It literally almost single-handedly shifted my entire viewpoint on beauty."
It's not hard to imagine that his admiration is part of why Barker purchased Muller's portrait, "Untitled. [Scan 1, Portrait of a tumor]" last December. The painting now hangs framed on a wall in his living room, and is a conversation piece for Barker's guests, many of whom see different images when they look at the painting. "It has so many realms to it," he said.
***
In February, Muller received news from her doctors that there was a change in her scans, prompting her to withdraw from classes. She has since found out that the issue was cleared up, but with her new time off from school she occupies herself by constantly making art and planning new projects.
"I started setting up regimens for myself so I wouldn't get bored or crazy," said Muller, with her characteristic cheerfulness. "Everything is 'let's make some art!'"
In addition to planning a photographic collaboration with Barker for some time in the future, Muller has been busy organizing and creating new art for an exhibition titled "Skin" with two other Parsons students, Jeesu Kim and Laura Heinzinger. The exhibition focuses on the boundary between nature and the unnatural and is slated to open April 2 at 25 E. 13th St., at 6 p.m.
Unlike much of the black and white art she made last year in the months before her diagnosis, many of the new paintings showcased in "Skin" revolve around lush greens and fluorescent yellows.
Although she has only begun painting with bright green recently, it holds a private meaning for Muller. The color reminds her of a friend she made when she was battling her first cancer — another cancer survivor named Taylor Matthews who used it prominently in a fashion and accessory line she created called tay-bandz.
Although Matthews passed away in 2008 after a second bout with cancer, tay-bandz continues and has raised over $1 million for cancer research. Using that same green in her artwork is another way of carrying Matthews's memory with her.
Most mornings Muller begins her day by painting in a watercolor journal that a family friend gave her. She spends no more than a few minutes on each painting. This is how she prefers to tackle many of her paintings that will be exhibited in "Skin." Stay too long with a piece, and you could ruin it, she said.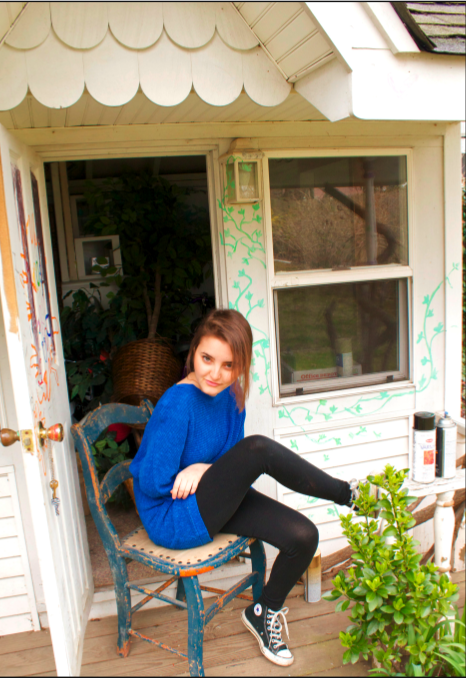 In the backyard of the Long Island home where she grew up is a sun-lit brick patio. The patio is surprisingly sparse and tidy except for a few telltale splashes of neon green paint peppered along the ground. Since she moved back home, this has become Muller's makeshift art studio.
In lieu of traditional storage space, she keeps old canvases in a Victorian-style playhouse that was designed by her father, an architect, for her and her old sister Andrea, when they were both children.
Setting out her canvases on the ground, Muller often paints standing above her work, a posture reminiscent of Jackson Pollock — one of her favorite artists. Ever since the surgeries on her right arm, she has been unable to regain full-mobility.
Muller adapted fluidly by learning to use both arms to paint; she uses her left arm primarily for the large circular sweeping motions that appear throughout much of the new painting for "Skin," and her right arm for finer details.
Frida Kahlo is another source of inspiration. The celebrated Mexican painter completed many haunting self-portraits after her spine was gruesomely severed in a trolley car accident. "For me, her work reciprocates the idea that suffering can be dealt with," says Muller. "Pain can be explored."
***
The subject matter for "Skin" was built in part around a quote from Nam June Paik that was selected by Muller's collaborator Laura Heinzinger.
"We were going to have an exhibition together, but we didn't know what to talk about," said Kim. "Then Laura had a very clear idea of what she wanted to do."
"'Skin is inadequate in experiencing the world. Technology is the new membrane of existence'," said Heinzinger, jumping in to offer the Paik quote. "It's the basis of the exhibition."
Jeesu Kim described how she first collaborated with Muller on a project in their sophomore year at Parsons, and how impressed she had been by her peer's work ethic.
"She's the one who keeps us on schedule — she's the most organized person," said Kim.
"She has this intense enthusiasm that really gives the show a lot of energy," added Heinzinger. "Seriously, we're too relaxed and it's really good that she's a part of it."
***
On March 15, in a third-floor classroom at NYU Medical Center whose back windows faced the noisy FDR Drive, 13 medical students sat attentively, watching as their teacher presented that night's lesson. Poised atop a stool at the front of the room was not a doctor, or even an NYU professor, but Muller.
The event was called "The Art of Medicine," and the audience was a painting club comprised of NYU medical students who had been meeting in the space regularly to make art together.
Four months earlier, in a gallery space located in the same building, Muller had showcased her solo exhibition "Bone to Brain." The intensely medical subject matter of the art on display appealed to medical student Robert Spencer so much that he got in touch with Muller about speaking to his painting club as a guest lecturer.
If she had any anxiety about speaking to a large group of strangers, Muller didn't show it as she launched into her history with cancer, and described how she came to incorporate it into her artwork.
Passing around her own sketchbooks along with photocopied medical images, Muller suggested that students might consider using the visuals as a jumping off point for their own paintings that night. "But if you don't want to, that's totally cool too!" said Muller encouragingly. "These are your paintings, so feel free to do whatever the hell you want."
During an informal Q & A, Muller spoke about her experiences as a patient, and how her time in the medical world pushed her to address the subject of the body as a technological object in her paintings.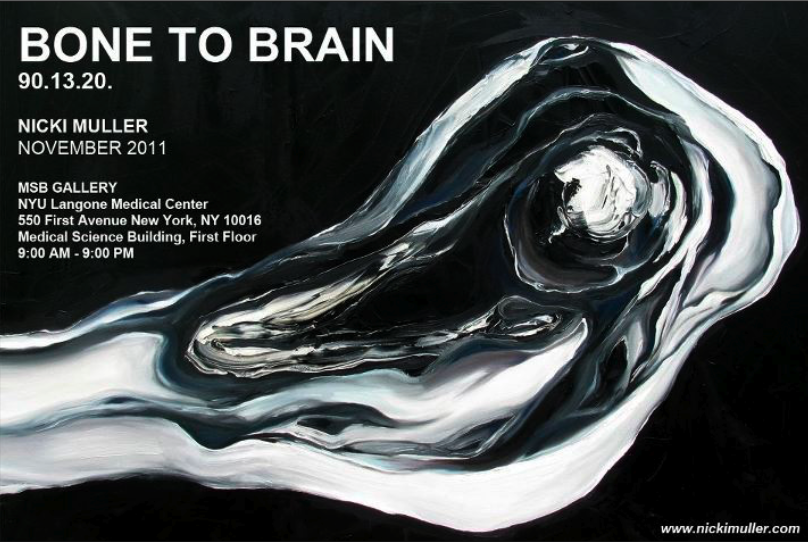 "I remember this one resident, and he would never talk to me. And I hated it because it made me feel not human," Muller confided to the group. "And I needed that connection. I needed attention, I guess."
But while these medical issues have formed the backbone of her art for so long, Muller said she was looking forward to exploring something more colorful and uplifting in the upcoming "Skin" exhibition.
This week Muller was told that the swelling in her brain has decreased significantly. Further decisions regarding her treatments still need to happen, but for now, she's satisfied. "I've never made work this colorful before. It tells me that things are good when there's color," said Muller. "I think it's good for me to get out of the medical space for a bit."
Reporting by Danielle Balbi and Danielle Ellis-Ferris

For more information, visit www.nickimuller.com. 
On October 22, Nicki Muller lost her battle with brain cancer. In an email sent to The New School community on October 23, Parsons Dean Joel Towers and Lang Dean Stephanie Browner said the university will work with Muller's fellow students and professors to select a memorial tribute, for the Adam & Sophie Gimbel Art and Design Library, in her honor.
Nicki Muller from New School Free Press on Vimeo.