A Parsons design graduate plans to donate 400 jackets designed for Syrian refugees to the people who've managed to flee their war-torn homes and settle in one of the many destitute camps she recently visited in Greece, she said.
The designer, Angela Luna, began creating the clothing for her senior thesis and had launched a Kickstarter fundraising campaign on Jan. 6, but wasn't seeing much traction at first. Her campaign, which would donate a jacket for every one that was bought, was in its final two weeks and had only raised 25 percent of her $60,000 goal, she said.
But then, INSIDER Style published a video about her on Feb. 23 which quickly garnered more than 32 million views and spurred a flurry of inquiries. By the end of the campaign on March 7, Luna raised more than $97,000, more than enough to donate 400 jackets.
"We did it! We'll definitely be making a difference in the lives of many refugees," she said to supporters on surpassing the original Kickstarter goal.
Luna's use of design intervention to address societal issues is one that Parsons School of Fashion is both proud of and hopes to see more of, according to its dean.
"Angela Luna's senior thesis collection represents an honest, unwavering approach to tackle the global immigration crisis in an innovative way," said Burak Cakmak, the dean of Parsons School of Fashion. "Her commitment to asking questions about how to support a distinct population segment under distress due to reasons beyond their control embodies a key facet of the role we expect from a fashion designer graduating from Parsons today."
After graduating last fall and winning the coveted Parsons "Designer of the Year" title, Luna has gone on to do a TEDtalk, present at the United Nations, be featured in The New York Times, participate in a WeChat conference in China, and was recently named one of Forbes's "30 Under 30." Yet, perhaps her biggest feat of 2016 was visiting refugee camps in Greece.
"It was the craziest week and I felt like I lived a thousand years in that one week, but it was great and I want to go back as soon as I can and I want to stay for way longer," Luna said.
When Carry the Future, a small charity that provides baby carriers to refugee families, reached out to Luna to ask if she wanted to join the organization on its next trip, Luna hopped on a flight to Greece with her thesis collection in tow. In November, they visited "about six or seven" refugee camps in a span of one week.
"We were planning to go to one camp… and then we would take a wrong turn and we would end up at another camp that we thought was that one," Luna said. "They're everywhere." She added that the conditions of the different camps were varied and that one of the worst seemed to once be a jail.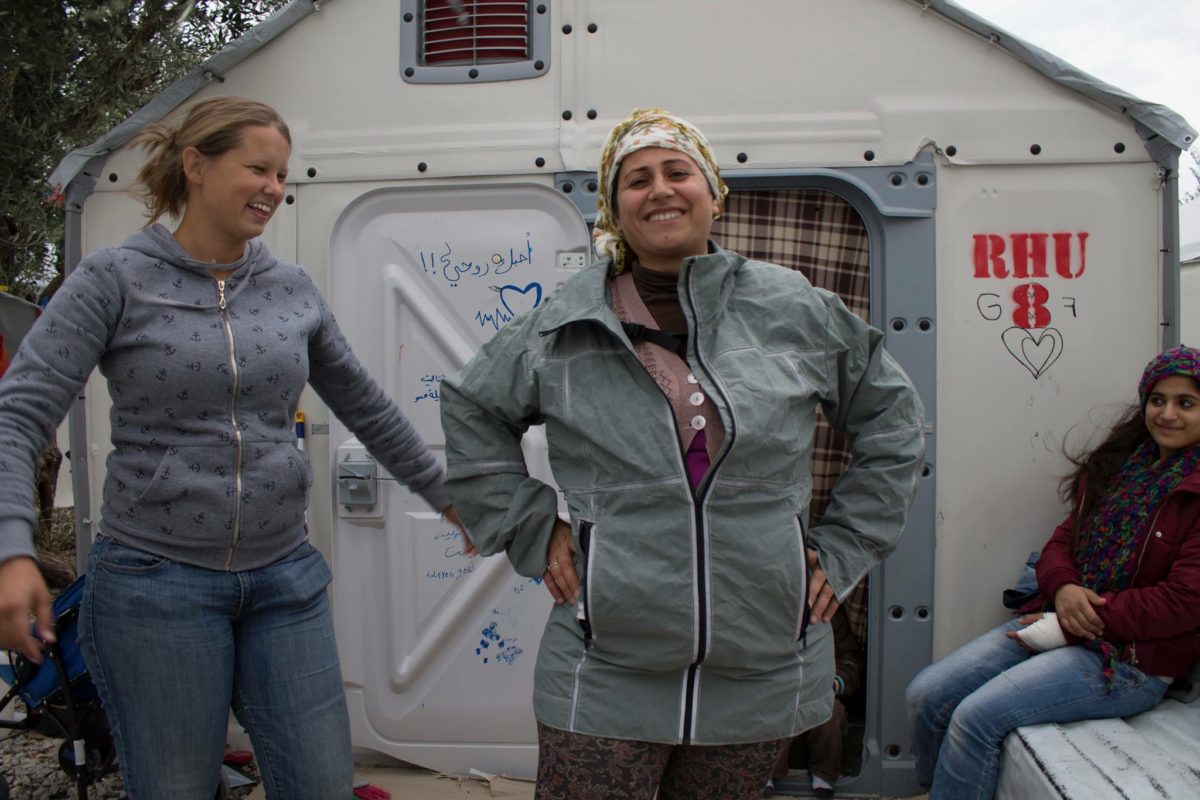 Luna brought her prototypes into the camps and had refugees user-test them. According to Luna, the general consensus was that the "reflective reversible" jacket would be the most useful. The jacket was originally designed to help refugees be seen when traveling across the Aegean Sea, especially if they fell into the water. However, once inside the camps, Luna learned a problem was visibility when walking on main roads at the night. She said that just a week before she had visited one camp, a mother and her son were hit by a car walking along the highway at night.
When Luna would bring out her thesis collection, usually little girls (children in the camps apparently always spoke the best English) would translate and people would knock on their neighbors' doors to come see.
"For a second, they don't have to worry about their visa situation. They don't have to worry about what happened to them before or where they're gonna go next. They can just have a moment to talk about something as light as fashion," she said about the positive reactions to her designs.
Luna launched her Kickstarter campaign on Jan. 6, choosing to produce the "reflective reversible" jacket as the first piece. Once INSIDER published their video on Feb. 23, it quickly went viral. After, she has also received thousands of requests for her jacket that turns into a tent, featured in the video and hopes to begin its production next, she said.
"Angela Luna is a wonderful, talented, dedicated human. Her work represents talent, fashion, service and social justice," said Caroline Simonelli, Luna's past thesis professor. "She was amazing to work with. We are all so proud of her."
For her distribution process of the donations, the Parsons graduate hopes to create a boutique like shopping experience to establish some normalcy in the often chaotic camps. "It's not really like these people are treated like humans when they get donations," she said.
In the near future, Luna said she hopes to move to Europe to be closer to the camps. "The end goal would be to have my design studio next door or at least within a close vicinity, so I could have that day-to-day interaction," she said, adding that she hopes to hire resettled refugees.
Returning to the  U.S. was particularly difficult after Luna's experience inside the camps, she said. She described the varied conditions of the camps, the dark long and rough ferry trip to Lesvos, the overwhelming number of lifejackets on the shore of Eftalou, the animosity between Afghani, Kurdish and Yazidi refugees, the boredom felt by the refugees, the poor aid distribution, and both the resilience and horror of the children in the camps.
In one situation, a colleague of Luna's was playing with two sisters, around 2 and 3 years old, when a truck drove by and the toddlers ran and dove behind a fence, she said. When recalling this story, Luna exhaled deeply and said she wondered if that was their first reaction to a simple truck passing by, "what shit happened to [them] wherever [they] came from."
Luna too grew close with many of the children inside the camps. In particular, there was one boy whom she taught how to shade drawings, "because of course, I'm a Parsons student," she joked. In return, he played her a song on guitar.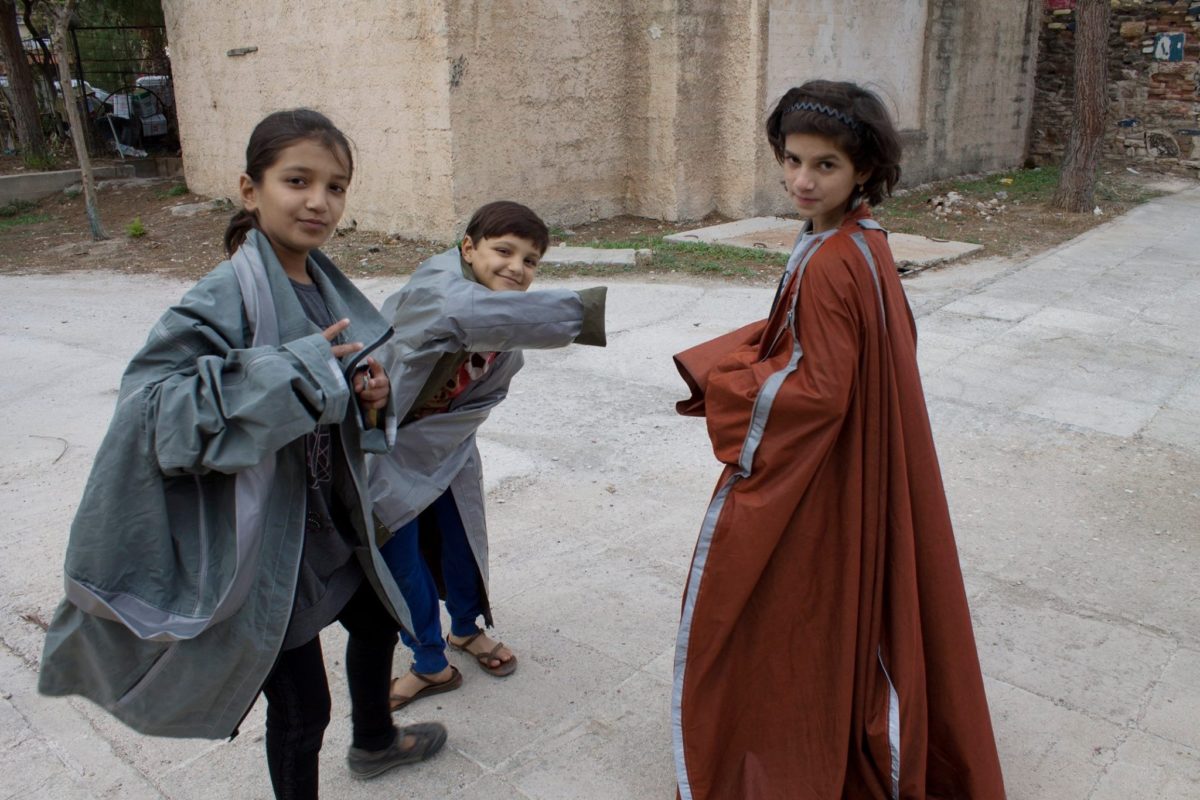 According to The United Nations Human Rights Council, the UN Refugee Agency, over half of the world's refugees are children. Because of the amount of children inside the camps, Luna said she plans to create children's jackets that they could grow into.
But she's conflicted about this because she doesn't want the children to be at the refugee camps for that much longer.
"The minute I see the version of the jacket in a child's size, I feel like I'm just gonna lose it."