"Another 200 people died in Syria today" blasted from the 11 o'clock news as Angela Luna and her father sat watching television in their Massachusetts home. Luna, 22, a Parsons Fashion Design senior, turned to her father and asked "Should I be doing fashion? We're sitting around everyday talking about $4,000 Prada pants that don't even matter in the larger scheme of things."
Since that moment, Luna has designed her senior thesis collection to address the problems facing Syrian refugees as they make their journey across borders to safety.
Now that her thesis collection has been completed down to the very last seam, Luna has been announced as a finalist for the Parsons School of Fashion 2016 Designer of the Year and is beginning the next steps to make the project a reality.
Having met with fashion design icon Donna Karan and consulted with major nonprofits, Luna is well on the way to achieving her objective.  
"My goal was to have an approach to thesis that wasn't just inspired by a generic thing. [My goal] was definitely to have a problem that would take me all year to solve," Luna said.
In March 2011, Syria joined in the surge of anti-government protests known as the Arab Spring that swept through the Middle East and North Africa and toppled several governments in its path. Syria's initially peaceful protests quickly turned violent and became a fully fledged civil war between the regime and rebels. Since it began five years ago, the civil war has killed over 220,000 people, the majority believed to be civilians, according to Mercy Corps.
Due to the violent war and dwindling resources, a large portion of the Syrian population has fled to bordering countries such as  Jordan, Lebanon, Iraq, Turkey, and from Turkey across the ocean to Greece into Europe. According to Mercy Corps, "The U.N. predicts there could be 4.7 million registered Syrian refugees by the end of 2016 — the worst exodus since the Rwandan genocide 20 years ago."
Prior to her thesis, Luna was an eveningwear designer focusing on hand stitching, beading, and couture techniques. She had a job lined up and a contract signed at Abercrombie & Fitch to start straight after graduation. All this changed when she began looking further into the Syrian refugee crisis and applying design intervention to come up with possible solutions to the crisis.
"I'm not even the same designer that I was. I think it's for the better," Luna said. "I don't want to sound snobbish or something, but the idea of designing something that doesn't really solve a problem to me right now is so unappealing."
Luna admitted she did not want to go back to designing eveningwear at all.
"[My thesis project] was supposed to be this huge risk that would probably not end up good, but it was OK because I already had a job lined up, so if it didn't turn out, then it didn't turn out," Luna said. She added that both of her thesis professors expected it to be a failure, but she was proud that she was able to prove them wrong. "It's kinda crazy how this thing that was a huge risk now is leading towards me turning down two job offers, so that I can keep it going forward."
After reading countless articles and speaking to first hand witnesses, Luna chose some of the major issues faced by refugees making their trip to safety and designed pieces to address these.
Her thesis collection is comprised of seven transformative outerwear looks that are both unisex and one size fits all. The looks include two jackets that transform to full size tents (one that fits a couple and another that fits a family), a jacket that turns into a sleeping bag, a jacket that turns into a backpack, an inflatable life vest garment, an adjustable child carrier vest, and a reversible reflective/camouflage jacket. At the same time, she thought of functionalities that could easily be repurposed for outdoors or camping activities.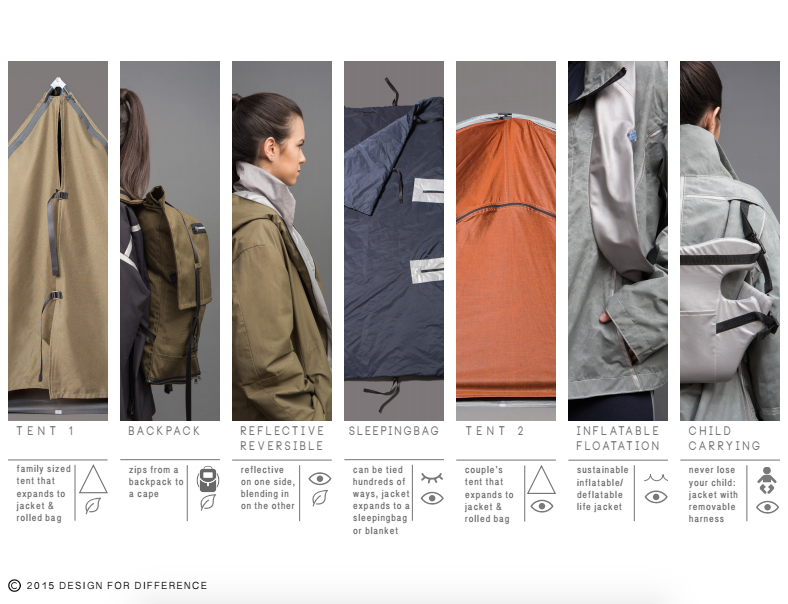 Luna plans to sell the garments of her original designs for this active customer at a price point similar to North Face or Patagonia. With a large portion of the sales from these garments, she would pay for the production of streamlined versions of the original designs, simplifying the aesthetic elements and focusing on the functionality of each. Then these simple 'utilitarian' garments would be donated to refugees, but the logistics of transporting them has not been worked out yet.
Throughout the design process, Luna has also kept in mind her desire to actually create solutions rather than capitalizing on tragedy. "I mean, I'm a white girl at Parsons," she said.
Earlier in the semester, Luna interviewed for an internship with a company (which she wished to not have named) who supplies clothing to Target. When Luna brought up her thesis project to her potential employer, he loved the idea and offered to produce her designs in the company's factories free of charge. After getting the internship, sending in her technical flat sketches, and delivering her muslin prototypes overnight, she met with her supervisor a second time. In this meeting, he informed her that she would have to give up the rights to her designs in order for them to be produced free of charge. Luna then asked to see a contract if this would be the case. According to the student, once she mentioned the word 'contract,' the deal was off and she was soon terminated from her internship.
"They say don't burn bridges, but I'm so glad that bridge is burnt," Luna said.
Luna is now working to get her designs patented and this experience has lead her to continue her education further. In the fall, Luna will be attending Amsterdam Fashion Institute where she hopes to develop a more concrete plan for bringing her idea to market and to learn "all of the stuff that Parsons doesn't teach you," she said.
"It doesn't really matter how good of a designer you are or how talented you are, if you don't know the business side of things, then you aren't going to get anywhere," Luna said she learned from that experience. "You are just going to get taken advantage of and nothing is really gonna come from it. So you really need that business knowledge to be successful in a business industry."
Her refugee crisis thesis project is only part of her larger brand, "Design for Difference."
IHH Humanitarian Relief Foundation, a Turkish NGO that is aiding the Syrian refugee crisis, expressed interest in Luna's collection. Hatice Varol, from the Institutional Partnerships Department of IHH, informed Luna that the clothing could not only be beneficial to refugees, but also to IDPs, internally displaced people, and Syrian aid workers, both of whom must be constantly on the move to find safety and each other.
The suggestion to also create long term solutions was given by a friend of one of Luna's thesis professors who worked hands on in refugee camps in Lebanon for some time. Luna also reached out to organizations like the United Nations and the International Rescue Committee. Unfortunately, Luna had difficulty talking to actual refugees due to the legality and confidentiality issues involved.
"Going forward I am going to try to break down that barrier," she said. Luna has realized that her high ambitions with the project require much more time than the year allotted for thesis. "You can only do so much," she said. She hopes to get access to refugees and is planning to apply to the Fulbright Scholarship in order to do so and user test the garments in Turkey.
Reflecting on the Syrian conflict and refugee crisis, Luna said, " It was so different from my life. This is something so traumatic, how is it something that is not being talked about all the time? It's like when you watch the morning news and [they say] 40 people were killed in Syria and now we're gonna go to this talking dog."
"How is it that this is something that gets so swept under the rug for our society and our culture when it's like people are dying, people are losing their family members, and they're are losing everything. How is this not something that we should be paying attention to?"
Luna has created a promotional video to spread the word on Design for Difference. Watch it below.