5 Pointz is hard to miss. As the 7 train rises out of the depths of the East River into Long Island City, Queens, the five-story graffiti-covered  warehouse slowly comes into focus. Passengers crane their heads to glimpse a peek at the murals of rappers, hip hop artists, and cartoons that burst to life from its peeling yellow walls.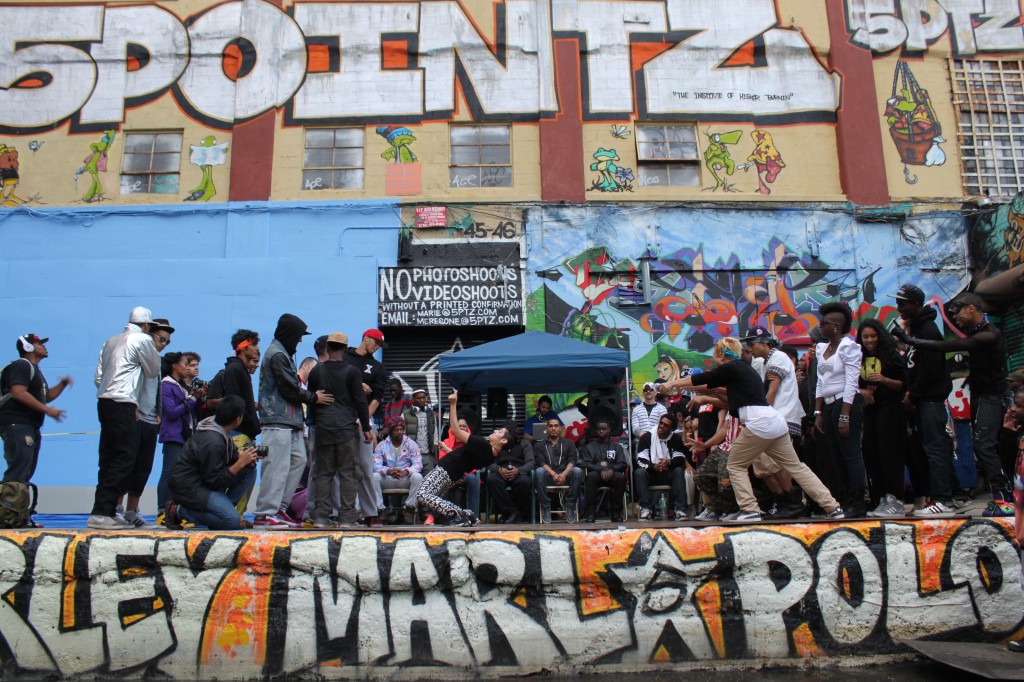 Known as the world's graffiti mecca, 5 Pointz is the largest legal aerosol art site of its kind. Artists come to this warehouse from all over the world for the chance to see their work displayed on its walls. It has been featured on numerous bus tours, been the backdrop for several movies and television episodes, and has been listed in every major guidebook, making it a destination for tourists and art aficionados alike.
Since the early 1990s, 5 Pointz has proudly dominated the Long Island City landscape, functioning as an introduction to Queens and a haven for graffiti artists — one of the only places in the world where they can legally practice their craft. David Wolkoff and his family have owned the site for four decades, working harmoniously alongside the artists — providing them with a free canvas for their work, and until six years ago, maintaining artists' lofts below market price, within the mural-covered walls of the establishment.
But as of this fall, the fate of 5 Pointz has officially been threatened. As the economy improves and the area around the warehouse has become more popular, Wolkoff has decided to demolish the aging building to make room for rental properties. To many, Wolkoff's approach is in line with the trend of the developing neighborhood. However, for about 15,000 petition signers and countless others, Wolkoff is about to do the unthinkable: tear down a building that has defined graffiti culture for decades.
In 2001, the Department of City Planning rezoned Long Island City, allowing for the construction of significantly larger buildings. In the last ten years, numerous high-rises — including a $1.25 million square-foot office tower — have sprouted up in the area. Long Island City is rapidly becoming a hub for young professionals who wish to live outside of the city's reaches, but just a few stops away from Grand Central Station. Following this trend, Wolkoff has plans to rezone his site, demolish the 200,000-square-foot warehouse that is 5 Pointz and build two large towers.
"We've allowed them to have a safe haven to do their work," said Wolkoff. "And now as a developer I have to be allowed to do the work I do, to create what I consider art, which is building buildings — which is an art form as well as an economic driver."
***
In 1993, Pat DiLillo, one of 200 artists who lived in the building at the time, approached Jerry Wolkoff, David's father, with an idea. DiLillo wanted to start a program aimed at taking young graffiti artists off the street, and he was hoping to use the warehouse as their canvas.  With Wolkoff's blessing, DiLillo's Phun Phactory took off, and was later renamed 5 Pointz in 2002 by its current curator, Jonathan Cohen. Today, much of Cohen's own work can be found on the warehouse's walls, where he identifies himself with the tag "Meresone."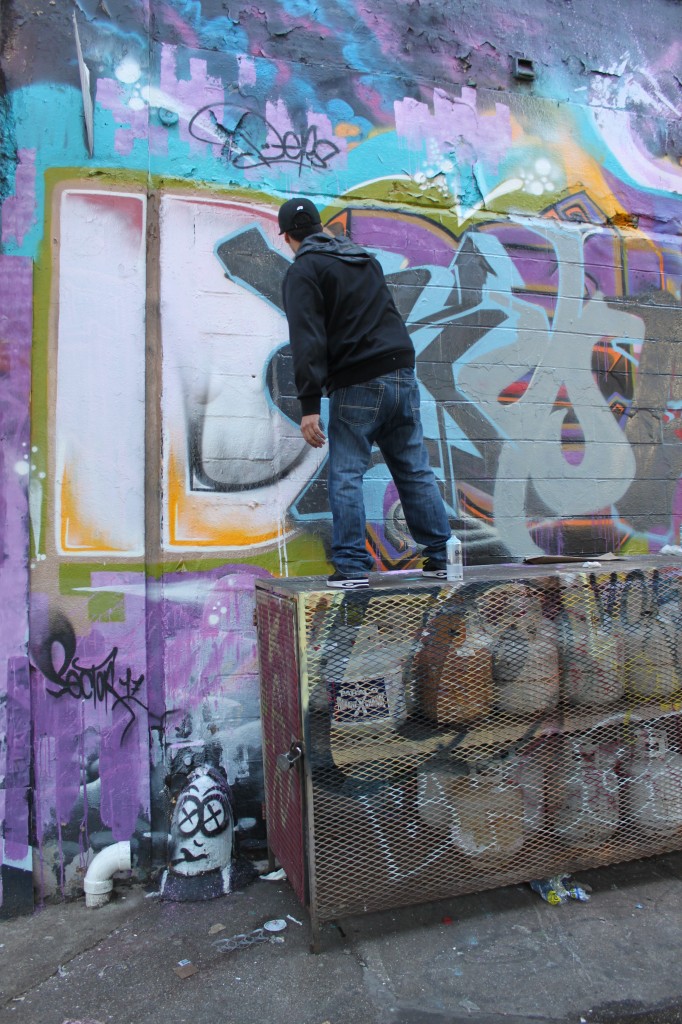 Hopeful artists submit their work to Cohen, who, pending approval, provides them with a space to paint. The exterior of the warehouse is covered top to bottom with graffiti. Most of its windows are barred, and the concrete outside is cracked and dotted with weeds. Despite the disrepair, 5 Pointz is almost never without visitors. During the summer, there are often over 100 artists who share the walls at one time.
"It's really a place that graffiti artists can go paint and relax and not worry about getting robbed by other graffiti artists or getting harassed," said artist BG 183, a member of TATS CRU, who has painted at 5 Pointz since 1996. "Having 5 Pointz brings art to a community that's been there for a long time."
Cohen also gives tours of the facility to over 100 school groups a year, ranging from university students — including Parsons — to children as young as seven. The revenue generated by tours and a donation box is used for upkeep of the building. None of the volunteers are paid and almost all of them lead professional lives outside of 5 Pointz.
Cohen said he respects the Wolkoffs, and is grateful to them for allowing artists to use the space for so long. He believes, however, that the developers do not see the importance that 5 Pointz has in the community.
In 2009, the building failed to pass city code and the artists were obligated to move out, but the art continued nonetheless.
Numerous complaints and citations have been lodged against 5 Pointz in the past fifteen years by residents of Long Island City, mostly related to maintenance issues. Wolkoff said he has also fielded complaints by neighbors about the graffiti art. "I get a tremendous amount of pressure from people who don't like graffiti in the neighborhood," he said. "Any given day or week I could have taken the art off the walls. Any time I wanted to. But because we like it, we've kept it there."
In addition, Wolkoff said that he is losing large sums of money because of the property. He does not charge the artists who paint at 5 Pointz or accept any compensation from tours, but continues to pay taxes on the building.
Wolkoff also said that when photographers or television shows rent the property for shoots, some of the money is given to the artists.
"When anybody ever takes a picture, when I have TV shoots or magazine shoots there, I make sure they pay him [Cohen], who I hope is paying the other artists. Any time there's a shoot there I make sure the artists are covered. They work too hard not to get some sort of remuneration."
Wolkoff declined to comment on how much money he has to gain with the construction of a new rental property.
***
Wolkoff's decision to construct a new rental property in Long Island City has much to do with the dramatic shift that has taken place there in the past decade. An influx of new residents have flocked to the neighborhood, drawn by cheap rents and its proximity to Manhattan. Wolkoff's plans include two towers reaching 47 and 41 stories, containing 1,000 rental units and up to 30,000 square feet of retail space. He is currently applying for permits that will allow him to build five times what is allowed on the lot. After he is approved by city planning, he will be able to apply for a demolition permit.
Wolkoff believes the construction jobs created with the building of the towers will bring in an influx of revenue to the area while construction is underway, and after that new residents will take care of the rest. "That area is starting to blossom and I think there are specific restaurants that can't keep the restaurants open late at night because there's no one there," said Wolkoff. "With more and more density, these restaurants and other services can make a living."
Marie Cecile Flageul, 38, a resident of Long Island City and 5 Pointz volunteer, is not optimistic about the future of the neighborhood if the building is demolished. "People who have lived here all their life, yes they want the neighborhood to progress, but that doesn't mean at any cost," she said. "Our landlord, to my knowledge, has never even had lunch or dinner in LIC. So they have all these ideas about what LIC needs, but they haven't moved to Queens. How do they know what we need?"
Cohen agreed, saying that he rarely sees Wolkoff. Wolkoff, however said he is there at least three times a week.
While the artists and fans of 5 Pointz are unhappy with Wolkoff's decision, many residents of the area are onboard with the change, including neighborhood businesses.
"I've been here for 22 years. The area was very dangerous before and now it's safer," said Lilly Kim, 60, owner of American Deli. "There were a lot of stick-ups before and now it's safe to run a small business since there are a lot of younger single people moving into the area."
In an interview with WNYC, Joseph Conley, the head of Queens Community Board 2, said, "I can't see that the community will lose anything with that building. It's an outdated building. It's from a bygone era and it's certainly not an efficient use of space."
Rich Nieto, 39, the owner of Sweetleaf Cafe down the street, plans to open a third outpost of his coffee shop on the ground floor of one of the towers. "If [5 Pointz] is not producing money for anyone I would understand why you would put a high rise building there."
***
Wolkoff has plans to allow artists to continue to paint on the walls outside of his rental towers, though on a much smaller scale than the vast warehouse of 5 Pointz. For Flaguel and the artists, that is not enough.
"Graffiti and street art is the most relevant art movement of the 20th century," said Flaguel. "It's an art form that has been practiced by every culture, every religion, and every color…You're about to erase the Chrysler Building of the biggest art movement of the 20th century."
When addressing residents worried that the loss of 5 Pointz will take away one of the area's largest art institutions, Wolkoff points to nearby contemporary art museum MOMA PS1, which he believes will ensure the culture of the community.
"For a little while during demolition and construction there won't be any art, but once the [new] building is built they'll come back," said Wolkoff. "The artists will come back. Not in the same numbers but at least they'll come back."
Cohen not only understands the cultural importance of 5 Pointz, but its value of keeping artists off the street. He is not as optimistic as Wolkoff. "It's going to end careers and it's going to spark vandalism," he said. "People aren't going to stop doing graffiti."
With reporting by Nicolas Amara, Emiliano Bombieri-Morales & Francia Sandoval