Growing a movement in New York City
On a warm day in April, a little girl in braids and a fuschia jumper runs toward chickens crowing in a coop.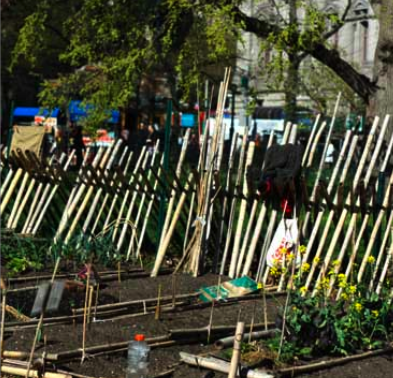 The girl and the fowl are surrounded by lush 4' by 8' plots littered with spearmint, comfrey, sage. In just a few months, the trees nearby will bloom with apples, pears, cherries and other fruits.
The Taqwa Community Farm sits in the middle of Highbridge in the South Bronx — a neighborhood where almost half the population lives below the poverty line and over a quarter live with heart disease.
Taqwa, Arabic for "the peace," was founded in 1992 by Abu Talib and seven others. Before Taqwa, Talib was a sharecropper, played lead guitar for a group called the The Arabian Knights for 16 years, and did construction work. Talib, a 77-year-old native South Carolinian, says it was the first urban farm in New York — the first in a long succession of urban farming projects in the city.
Taqwa is surrounded by old homes and apartment buildings. The farm rests on a lot blocks away from Yankee Stadium on 164th Street between Ogden Avenue and Woodycrest Avenue — the site of two former houses used as drug havens.
"The federal troops came and they closed it," Tabil said. "After 10 years, the community was in trouble, so we went to the city to request a piece of land."
Talib rents out 4' by 8' cultivable plots to Taqwa members for $3, a policy unchanged since 1992. They sell their products at local farmers markets and donate any leftover produce through their "Grow and Give" program.
"[With] this kind of program, you can't go into it for the money," Talib said. "You gotta go into it for the people… We grow a tremendous amount of food. We're not going to eat it all. We're not going to sell it all."
To make the land arable again, Talib and the co-founders brought in their own dirt. Talib himself planted all but one of the trees in the farm. Since its inception, Taqwa now grows a wide range of herbs, fruits and vegetables. The farm also use a hydroponic system to grow lettuce and collard greens.
In recent years, Taqwa expanded their products to live animals. They began raising chickens four years ago, and beekeeping two years ago.
"Between Easter and Thanksgiving, I get all my eggs here," Nurah Amat'ullah, of the Muslim Women's Institute for Research and Development and a local resident, said.
Taqwa's focus is on building and serving a community, which has been achieved in some ways: there's a small stage set up where people can perform music — Talib himself plays modern jazz guitar on stage occasionally. Benny, a local homeless man, stopped by and ate his lunch at the chairs in the back of the farm.
Bobby Watson, Talib's middle-aged son, said, "I come here to relax. People come and grill in the summer. It's a nice break at the end of the day."
***
Since 1992, Taqwa, and other farms since, helped pave the way towards the rise of new urban farms. There are urban farm projects sprouting throughout all five boroughs. This growth, along with the "local food" movement gaining momentum, has garnered national attention.
Down the East River in Red Hook, Brooklyn lies a football field-sized farm close to the water and directly across from the blue and white concrete IKEA. Hand painted signs on the surrounding chain link fences let the neighbors know what's on the other side: the Red Hook Community Farm.
The Red Hook Community Farm is one of two farms owned and run by Added Value, a non-profit organization, with the other located on Governor's Island.
"This used to be… just asphalt," said Corbin Laedlein, the youth empowerment program coordinator. "This used to be owned by the city, but it wasn't really being utilized at the time… this was sort of just a dump where people would leave, you know, burnt-out cars and stuff like that."
Added Value was founded in April 2000 through the initial discussion of educational and employment opportunities for Red Hook teenagers, rather than with the idea of outright starting a farm.
According to their website, with the help of Heifer International —  the grassroots and community-based organization focused on ending hunger and poverty — neighborhood leaders and local youth created a three-year plan to address food insecurity, unemployment, and alienation faced by teenagers from Red Hook.
"When this place started the only other sort of place to get produce was C-Town and Fine Fare," Laedlein said, "and it's just not really the same quality of food you can get here."
The farm itself began in August 2003, partnering with the NYC Department of Parks and Recreation and Cornell University Cooperative Extension. According to their website, a 2.75 acre lot with a decrepit playground was turned into an urban farm.
Added Value runs a Youth Empowerment program which only hires 14 to 19 year olds for both week-long and month-long periods, where they earn a monthly stipend. They learn to cultivate and harvest food.
Since then, Added Value has begun to sell their produce to restaurants. Additionally, about 70 families participate in their Community Supported Agriculture, or CSA, program. They also have a farmers market where they sell their fresh produce for people in the area. They accept food stamps and participate in a farmers market nutrition program for WIC and for seniors.
"We grow most everything you would find at your average farmers market, seasonal vegetables and fruits," Laedlein said.
In addition to making healthy food more accessible geographically, they have programs that make fresh and local produce financially accessible as well. Added Value participates in the city program Health Bucks, where Electronic Benefit Transfer, or EBT, participants earn a paper voucher worth $2 for every $5 spent with their EBT.
With their stress on accessibility and teaching young people the responsibilities of a farm, financial and educational empowerment appear to be Added Value's biggest goals.
"We employ teens from South Brooklyn, so Red Hook and Sunset Park, put money in their pockets," Laedlein said. "They do farm work, learn about agriculture. We incorporate leadership development into the curriculum as well as lessons about social justice, food justice and sustainability."
***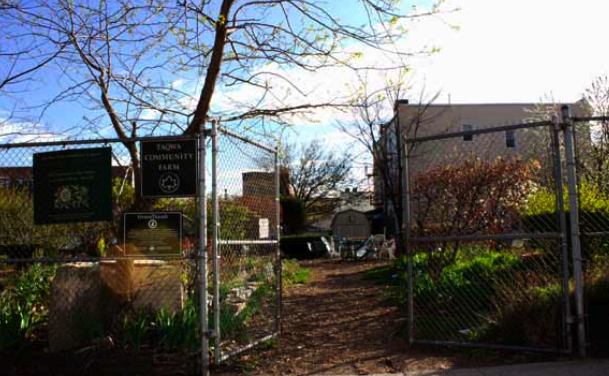 For these different farms, education plays an important role, whether it be simply learning how to reconnect with nature and your neighborhood, as with the Taqwa Community Farm, or learning how to challenge the confines of your income and location, as with Added Value in Red Hook.
One urban farm, just across the river from Added Value, focuses on education in a different way — Battery Urban Farm in Battery Park.
Battery Urban Farm began five months after eight Millennium High School students approached The Battery Conservancy in November 2010. According to their website, they wanted to grow a vegetable garden in the park, and the Conservancy welcomed the idea.
"Our primary goal is to educate children about farming," said Lauren Kaplan, coordinator at Battery Urban Farm. "We are still a relatively small organization, but over the past year, we have doubled the amount of students coming here to learn about farming.
The Battery Urban Farm is a one acre farm that consists of two open fields, located on the east side of Battery Park. Sticks of bamboo align and fence the grounds. They grow over 80 varieties of fruits, vegetables, grains, flowers and more, including peppers, baby eggplants, cilantro and squash.
Throughout the year, Battery Urban Farm serves as its own classroom, teaching students and teachers how to plant, cultivate and harvest fresh produce. Additionally, they host school visits, a summer program for children, and an adult workshop series.
Battery Urban Farm, along with the other two, is using city land creatively to grow something, whether it be a carrot, a stronger community, or knowledge. At the very core, they're all growing the same thing — a budding movement.
"We all have different reasons to get involved with agriculture," said Kaplan. "Urban farms reach such a broad, diverse group of people who might not see this kind of natural growth otherwise. New Yorkers are quickly catching on to the idea of incorporating farms into their communities."
Additional Reporting:  Will Carter and Harrison Golden