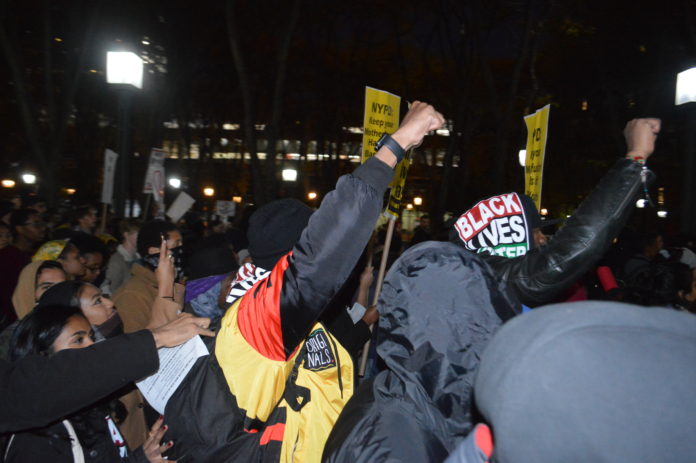 Hundreds of people marched through downtown Brooklyn, stopping traffic at intersections, swarming subway turnstiles and demanding city-wide change last Friday. This came after Decolonize This Place, a grassroots civil rights collective, shared a post calling for "FTP Emergency Action Against NYPD and the MTA."

This emergency action was called after videos began to surface online of police officers fighting with teenagers on the MTA.

Among them was 19-year-old Adrian Napier, who was captured on video sitting on the seats of a subway car with his hands up. The other passengers hastily moved out of the way when they noticed the police officer pointing a gun at Napier through a window. The door to the subway car at Franklin Avenue station opened and several police officers rushed in.

He turned to someone huddled among the other passengers and said, "call my mom" before the officers came in and pushed him to the ground. The New York Police Department said in a statement to NBC4 that they received a tip from a witness that Napier had a gun. Napier was officially charged with theft of services for hopping over the turnstile, also known as fare evasion.

The video went viral and caught the attention of local advocacy groups, such as Extinction Rebellion and Decolonize This Place, among others. Conversations on social media revolved around the heightened police presence as a response to fare evasion. A crowd gathered to protest the MTA and the NYPD in Brooklyn near McLaughlin Park at 5 p.m. on Nov. 1. Napier and his mother were both in attendance. He stood on a lightpost and looked over the crowd of people as tears welled up in his eyes.

"The one thing they will never take is hope, hope for a better future. I love you," Napier said.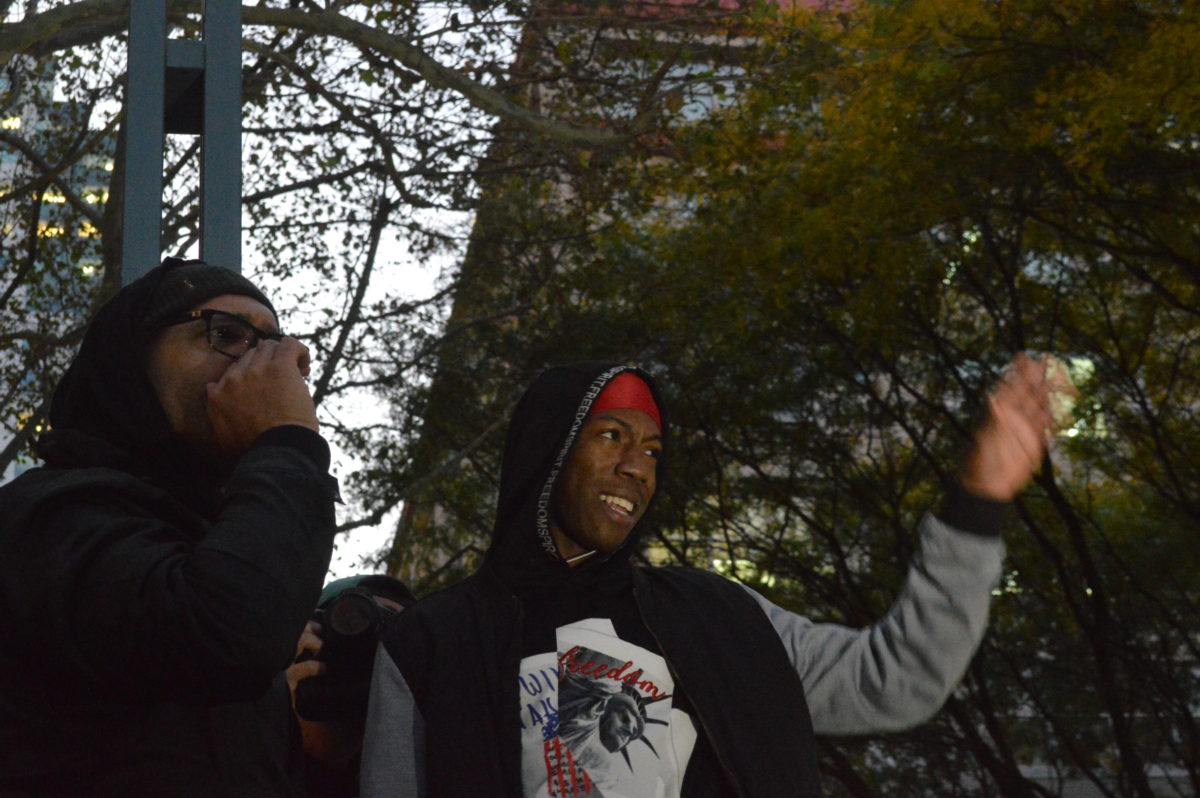 Since the protestors didn't receive any permits for their demonstration, it was illegal. Before the marching began, the organizers addressed the audience, letting them know they were at risk of being arrested, especially if they had any warrants, were undocumented, or covered their faces with masks.

Amin Husain, the lead organizer of Decolonize This Place, asked protestors to remain in a tight formation to keep police officers from separating the crowd. The organizers told the crowd that they had arranged to provide jail support and bail to those who were arrested as well.

"We have our own lawyer because we don't take this business lightly," Husain said. "This is not a march. This is a fucking wake up call to this city."

Despite the risk involved, more than a thousand people showed up to march, according to Husain, including a few New School students.

Parsons illustration student Coy "CJ" Jacobs was among those students at the protest on Friday.

"I've seen the cops terrorize my friends, the people I love and everyone generally and I think that we need to resist that," Jacobs said.

The protesters began to move through the streets, through busy intersections around downtown Brooklyn. Traffic stood still as the crowd moved. Some drivers opened their windows and filmed, screaming words of encouragement to the people passing them by. Whenever someone honked their horn, the crowd would erupt into cheers and applause.

As the mass of people passed the Barclays Center, messages were projected onto the side of the stadium and other buildings. One of the messages read "NYPD hands off our kids. Being broke is not a crime."

The protesters then began to hop over turnstiles by the hundreds chanting, "Ante-up: F*ck that cop" and "How do you spell racist? NYPD."

Back in June, Governor Andrew Cuomo announced an agreement made to add 500 additional police officers onto the MTA subway system. This plan was introduced to combat fare evasion and address other issues. 

At the end of the night, two arrests were made after one protestor spit on an officer. Both of the people arrested have since been released, according to a statement from the Decolonize This Place Instagram.

Decolonize This Place announced a second emergency action against the police on Nov. 22, with more info coming Monday.