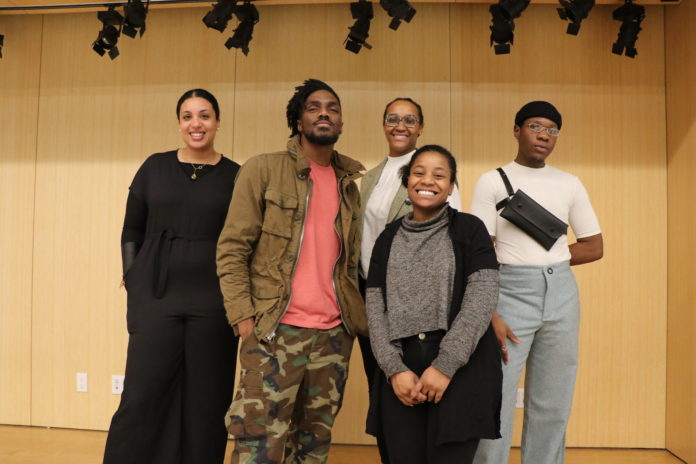 Anyone studying on the lower level of the University Center on the evening of Thursday, Feb. 28 would've been drawn to the sounds of music and laughter emanating from the Starr Foundation Hall. That's where Obsidian, "a collective of black designers at Parsons," per the group's Instagram profile, was celebrating the completion of its first month-long events series, called "Afrofuturism."

Over the four weeks of Black History Month, students belonging to this collective participated in a total of 13 "Afrofuturism" events hosted by Obsidian — ranging from a "Black Love Movie Night" and open mic night on Valentine's Day to a talk featuring Carly Cushnie, the fashion designer whose designs have been worn by Michelle Obama.

"As a fashion designer, I'm not just gonna do things that are fashion-related. I am interested in architecture, product design, and things of that nature, so I like how they [Obsidian] have crossed disciplines and that they do focus one week or one event at a time on certain categories for people who are interested in just that one thing," said Shykira Teague, a Parsons junior majoring in fashion design. Teague attended Obsidian's Feb. 7 "Afrofuturism" masterclass event featuring Parsons professor Kimberly Jenkins, who lectures about race and fashion.

Created six months ago, Obsidian is trying to transform how Parsons students and professors view and understand black artists' work and culture. Members are able to showcase their artwork to a group of peers who can understand the work better than people in their classes, students who are part of the group told the Free Press. By providing a community for black students to engage with each other's work, Obsidian also hosts events featuring established black artists that are not part of The New School community. These events give members opportunities to network for post-graduation jobs.

The group was formed in Oct. 2018 by Randall Jones, a second-year interior design MFA student at Parsons, as a way to bring black students together. She named the group after "a stone used a long time ago, a crystal to make tools" because she felt this name suited an organization made up of design students.

"I felt like I wanted to know more about other black students," Jones said. "I decided, 'Why not start an organization where we can all come together, know each other [and] get to know about each other's backgrounds, meet professionals in the field [and] get them to come speak in order to help us matriculate into our respective careers?'"

In roughly six months Obsidian has grown to around 30 members, Randall said.

Obsidian Social Chair Elijah Bean, a first-year Parsons dual degree Architecture and Lighting MFA student, joined the group this spring semester after Jones reached out and invited him and other black students to join the collective.

Bean said he was persuaded to join because Jones "was just like, 'I've heard on a number of occasions that if you're sharing the thing that is unique to your personal experience, and you're sharing it with a class where you hope that they're going to understand it because your experience is unique from the majority of the people in the class, than it might be a little difficult to make those things connect.'"

"There are things that are unique to my culture that end up seeping through my work," he said, reiterating the sentiment that, in Obsidian, black students can express their culture to people who can directly relate to it.
When asked what the collective meant to her, Parsons second-year MFA student Sophie Buteau, an architecture major and the group's vice president, said: "Obsidian to me is a collaborative expression of identity."
"Obsidian means, to me, black creative opulence," said BFA architecture student Changó Divine, who is Obsidian's undergraduate representative.
And the group's secretary, Irshaad Malloy, a second-year MFA architecture Parsons student, said that "Obsidian is a community for catalystic [sic] change."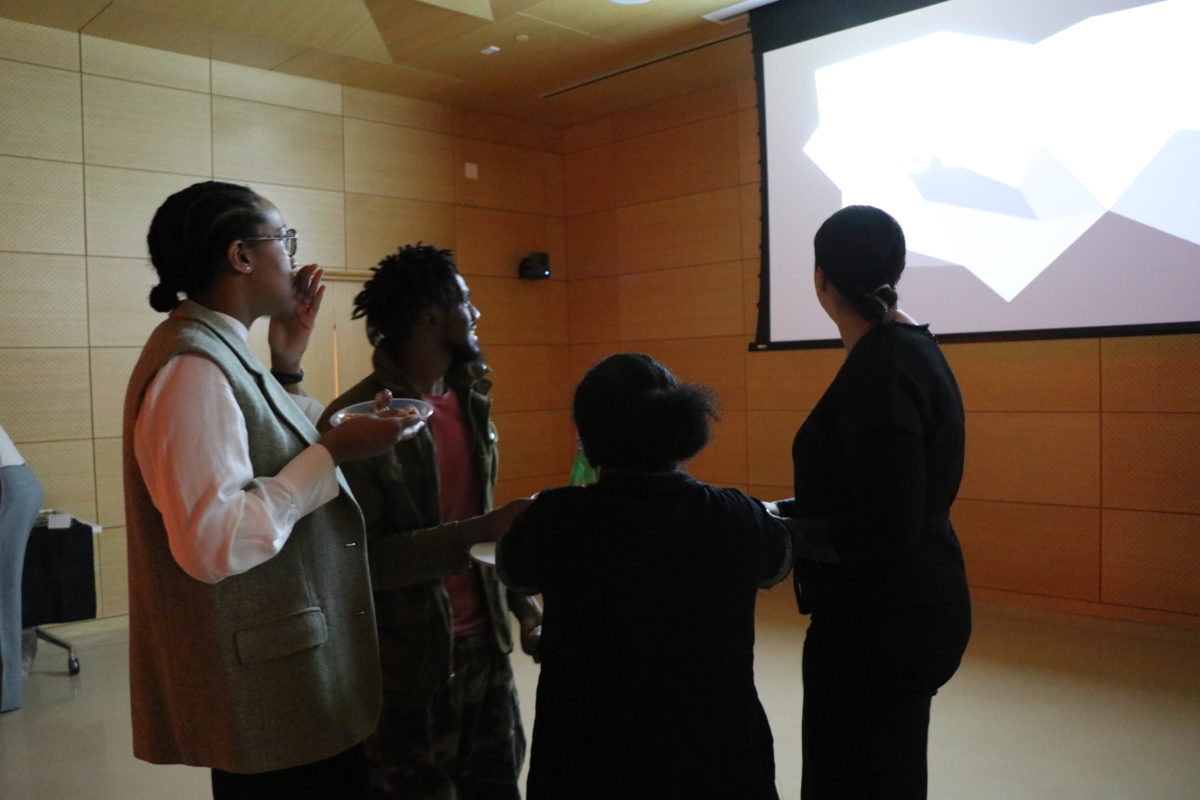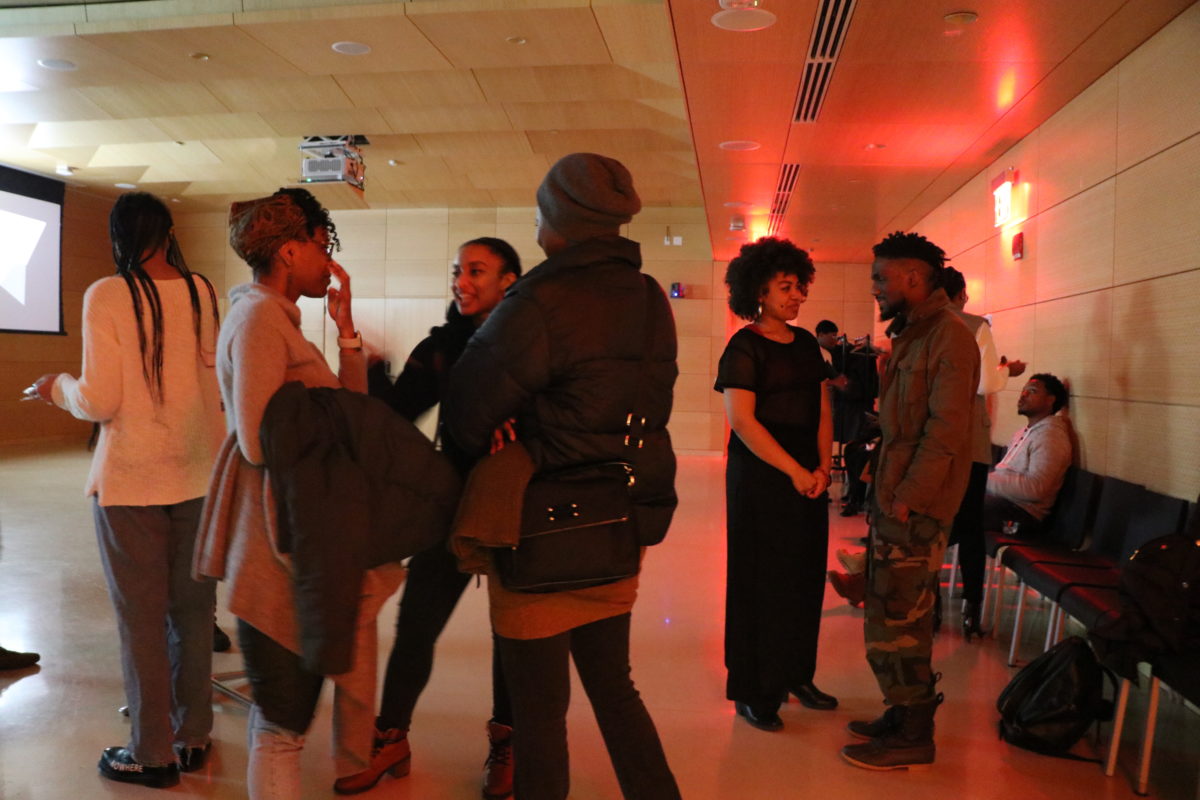 Their mission, Jones explained, is "to create a platform for students to come together feel more of a sense of comradery," regardless of accomplishment or status. "We've invited faculty to our events, [and] students who aren't black professionals out in the field at various levels of success," she said.

Dashae Roberts, a Parsons fashion design junior, said that because she is able to keep "meeting new people, connecting with more people, building relationships, [and] networking," she keeps going to Obsidian's events.

"Obsidian's impact on campus and to me is [being] a connector or liaison between faculty and staff that are black to help [us] succeed as black people in a predominantly white institution, since it is very hard to be in the art field without having a network and resources," Teague said.

Through its different events and initiatives — some of which are in partnership with other students of color groups on campus, like Students of Color Weekly and the Black Student Union — Obsidian aims to draw attention what the group perceives as a lack of diversity within Parsons' design programs.

That's part of the reason why Obsidian's events series "Afrofuturism" came to be. "Afrofuturism is the idea that as Parsons students, we're thinking about how the future of design looks with us present in it," Jones said. "We thought that our informal series should be called 'Afrofuturism' [because] it's kind of a science-fiction, Black Panther kind of vibe."

Some black students at Parsons said they face challenges in their classes because professors don't always understand their artwork.

"You almost have to be black to get it," Bean said, in reference to his artwork.

"I'm also experiencing a professor who's just not very into anything that I do. I don't know if it's a cultural expression that I put into everything, or what," said Obsidian Treasurer Stephan Verwayne-Mullen, a first-year dual degree MFA Architecture and Lighting student.

By bringing various identities to their works, the Obsidian collective and its members hope to change the world of design. "The possibilities are endless," Jones said.

"We just want to make sure that we are included in that conversation moving forward," Bean said.
Dina Williams contributed reporting