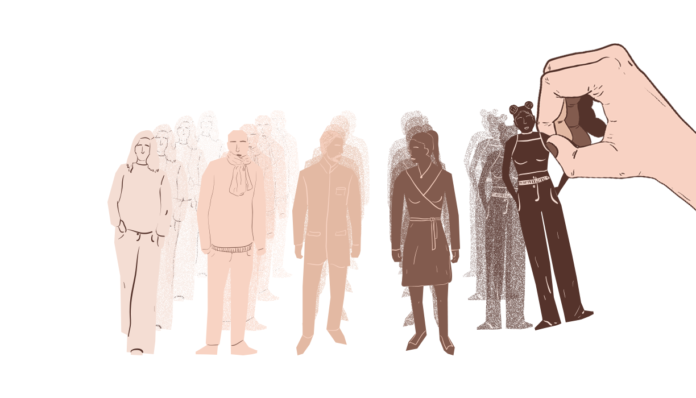 An activity about race and immigration that singled out students based on ethnicity provoked outrage during Professor David Plotke's "Remaking America?" ULEC.
The first activity involved Plotke picking students at random to come to the front of class and having the students guess what nationality and ethnicity they were, according to Erica Tagliarino, a student in the class who witnessed the exercise.
A second activity involved separating students into five groups and asking each group to select the person with the "median" skin tone. Plotke then asked the selected  students to come to the front of the class and had the class guess the ethnicity or nationality of each of the students, according to Tagliarino and other students in the lecture.
"Everyone looked at each other and I literally asked everyone 'Hey, just so we're all clear on this, you guys are uncomfortable with this too?' I was in a group with about 8 to 10 people, and all of them nodded their head 'Yes,'" Tagliarino said.
"One of the girls in the group just sort of looked at us and was like, 'I guess I'll be the sacrificial lamb and go up front,'" said Tagliarino.
The activity was part of a discussion of how race does not exist in a binary, according to one student who was made to stand in front of the class. The student, who preferred to remain anonymous, said they were upset that part of their identity was being put on display.
Plotke apologized to the class after the incident in a message sent via Canvas. "I did not aim to provoke or offend anyone in the class, and apologize for doing so," the message read. The letter also contained proposals to have a discussion of the incident in the following class.
"I think it's good to rely on exercises, exchanges, and illustrations. In this case, however, the exercise was weighed down by the possible ways it might have seemed upsetting and offensive. Now I think that it was not a good exercise because it was trying to express too many complicated meanings that it did not really illuminate," Plotke said in an email to the Free Press.
"When [students] explained what they didn't like – both about the process of doing the exercise and the substance of it – I thought they made good points," Plotke wrote, saying he regretted the exercise.
Students gathered outside the lecture hall after class on April 18, a week after the incident, discussing how to respond. Rosalind Aparicio-Ramirez, one of the students present during the incident, started drafting an open letter to the administration and the university with La Xente, a student organization she co-founded.
"Personally, I wouldn't accept an apology," Aparicio-Ramirez said. Letting the incident go "would be a disservice to my fellow people of color who go here and who will be going here, who might have him as a professor," Aparicio-Ramirez said.
Christina Dawkins, Director of Civic Engagement and Social Justice at Lang, encouraged students to reach out to department chairs when students experience instances of microaggressions. "A lot of people don't recognize that there is a problem. They don't recognize that they're part of the problem. But, we all are. And social justice is a practice. It's not really a proficiency level that you arrive at and you don't have to work on it anymore," said Dawkins.
---
Illustration by Ashlie Juarbe