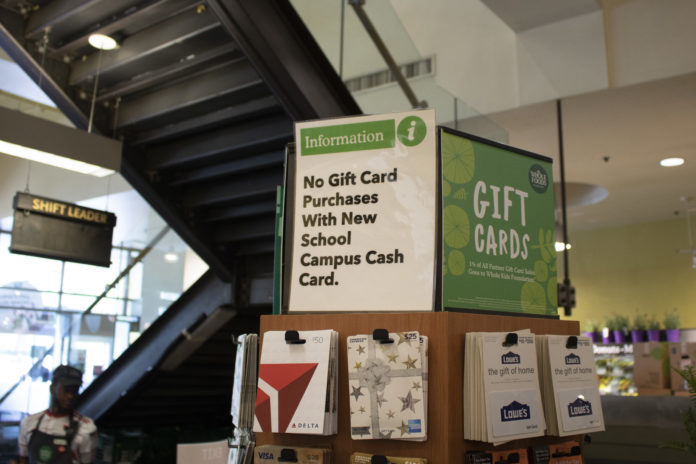 Students binged on gift cards for retailers like Uber and Nike, and Visa gift cards at Whole Foods last week, after Dining Dollars, the school's meal plan, were converted into Dining Dollars Plus.
The plan allows students to use their dollars at local retailers and restaurants that participate in the Off-Campus Merchant Program, such as Whole Foods, Food Emporium, and Westside Market.
The conversion happened on May 1, and students were notified of the change in an email from Michelle Relyea, Senior Vice President of Student Success. The change came in response to what the email described as a  "labor action." The Communist Student Group have been occupating the cafeteria since May 1, in protest of the university's decision to cut ties with Chartwells, the food service company that employs the university's cafeteria workers. The university has since changed course and are keeping their contract with Chartwells.
After the email, students quickly realized that they could use their Dining Dollars Plus to buy gift cards. "It felt incredible. I couldn't believe it. I could not have eaten $600 worth of food at the cafeteria within the next two weeks. It was definitely a blessing," said Nina Chapman, 19, an integrated design major at Parsons.
Students who were at Whole Foods on May 1 said the store was chaotic. "The line for the gift cards was like, 45 minutes long. The workers were all so confused. There were at least 50 Parsons students coming in and out every couple of minutes. It was ridiculous," said Ronni Lee, 18, a theatre major at Lang. "I didn't think it was going to spiral out of control and get so insane. Once one person figured it out, then everyone figured it out. Some girl tipped me off saying 'I just got $600 of Visa gift cards' and we were like 'You can do that?!'," said Chapman.  "We were in line for two hours."
Some students used whatever amount they had left on dining dollars to buy gift cards. "I got a $400 Visa gift card and $90 at Amazon. I basically used every dining dollar I had left. I know one guy on my floor took out like $1600 in Visa gift cards," said Dylan Morris, 21, a psychology major at Lang.
Morris said he plans to give some of the gift cards to his parents. "I almost never ate at the cafeteria anyway. I used a lot of money on my parent's credit cards to buy food. So I'm giving them some of the gift cards back. It's their money, they paid for my meal plan," said Morris.
Whole Foods stopped allowing students to use their Dining Dollars to buy gift cards on May 2, the day after students began purchasing gift cards. Students are now only allowed to buy grocery items at Whole Foods and other Off-Campus Merchants with their Dining Dollars.
Whole Foods declined to comment on denying any additional gift card purchases.
In a statement to The Free Press, the university confirmed that they were behind the decision to stop students from purchasing gift cards using their Dining Dollars. "Our third party vendor that administers Dining Dollars Plus notified the supermarket to discontinue their sale in accordance with Federal regulations. Because Dining Dollars Plus is eligible for federal financial aid, the meal plan can only be used to purchase food items. This does not include store cards like those issued by Whole Foods," said The New School's representative.
"We should be able to get the money back if they're not going to be preparing any food for us. I'd say it's not an ordinary situation and people got excited by the prospect of having $1600 they didn't just have," said Morris.
Photography by Orlando Mendiola