Fashion on 5th is The New School Free Press' weekly fashion column showcasing the student's best and most unique looks of the week.
---
Piper Scheifele, an integrated design sophomore at Parsons, wore a vintage shirt and jeans, a Jocelyn from Intermix jacket, and converse sneakers. As for accessories, she wears a Philip Lim bag, a bigger Zara bag, and sunglasses from Urban Outfitters. When asked why she made specific stylistic choices in regard to her outfit, Piper explained how she just "slapped it all together" and "threw it on."
Marielle Holland, a senior communication design student at Parsons, wore a statement GreenBoxShop shirt, Urban Outfitters pants, and a coat from Brandy Melville. Her rings are from Goodwill and small boutiques, while her earrings are from Urban Outfitters and her shoes are from Adidas.
Tuan Phan, a Parsons sophomore, wore a puffer jacket from a small now-closed Chinatown store that he purchased for only $40. Underneath, he layered a Trash and Vaudeville shirt along with Topman jeans, and included sneakers from Chinatown. The Rick Owens tote was gifted to him, and the checkered fanny pack was made by a friend. His lion ring is from Chinatown, the thumb ring is from a flea market and the pinky ring is from his mother.
Emily Powers, also a Parsons sophomore, said she's "all about the denim." She said that everyone always thinks her jeans are Vetements, but they're really from Gap. In her eyes, it seemed as though "Vetements ripped off the Gap," as the pants are years older. As for the rest of the outfit, her sweater is thrifted, her jacket is from Saks Fifth Ave, and her shoes are boys' Nike AF1s. Her denim backpack is American Apparel, her beret is thrifted from a Parisian school uniform surplus shop, and her sand dollar and nameplate necklaces are gifts. As for her bolo tie, they're Apple headphones that she tied around her neck on the spot.
Kwai Yuen Chan, a senior at Parsons, wore an oversized Alexander Wang sweater, a layered plaid shirt, sleek self-designed pants and red Prada shoes.
Liv Forte, a Parsons sophomore, wore her grandmother's sweater and pajama pants, a borrowed Dawn Levy jacket, and boots that she either bought from a vintage shop or that used to belong to her mom. Her earrings are vintage. The flower tattoo behind her ear was the first one she ever got;now she's a tattoo artist. When explaining why she chose this outfit, she revealed how since it's finals week, she just "wanted to wear something mad baggy" so she could be comfortable in her upcoming lecture class.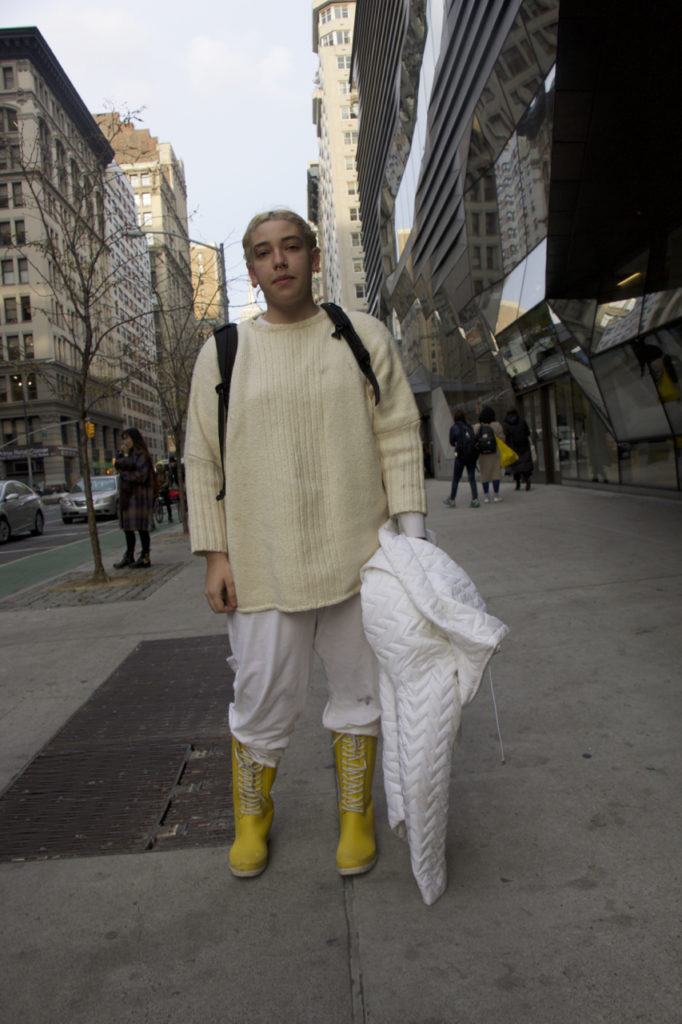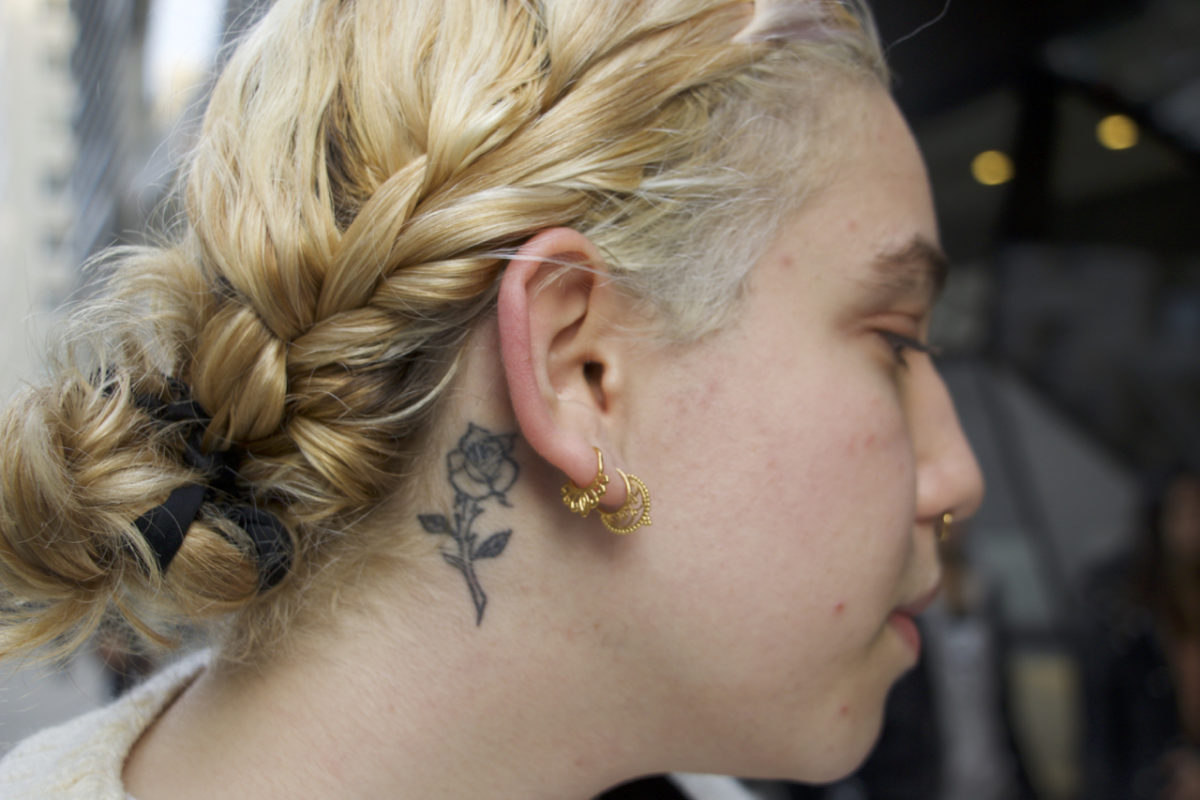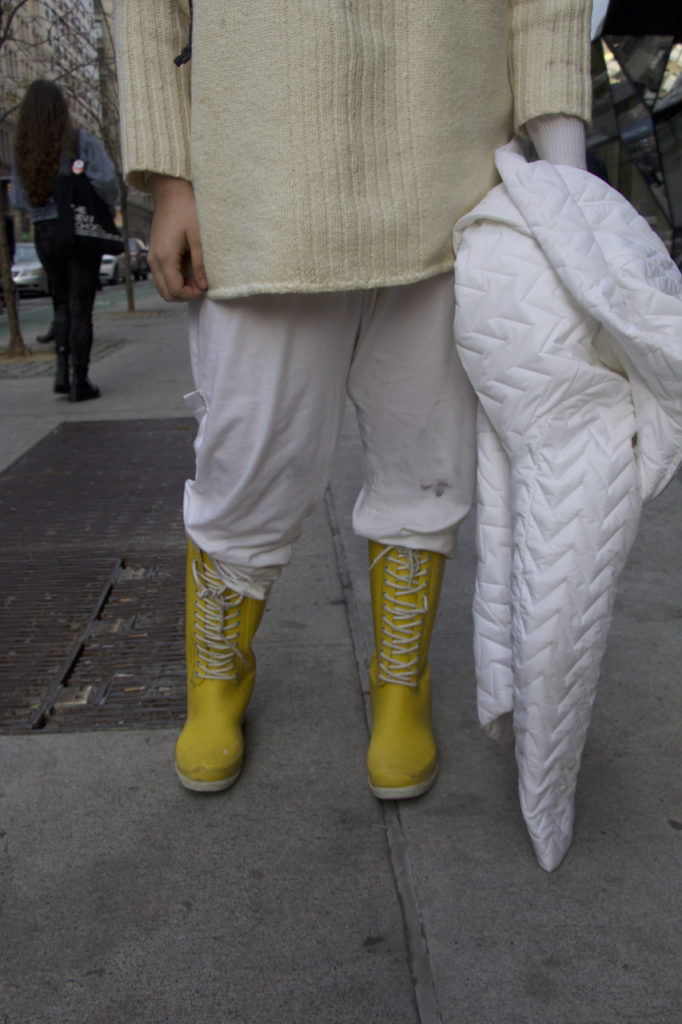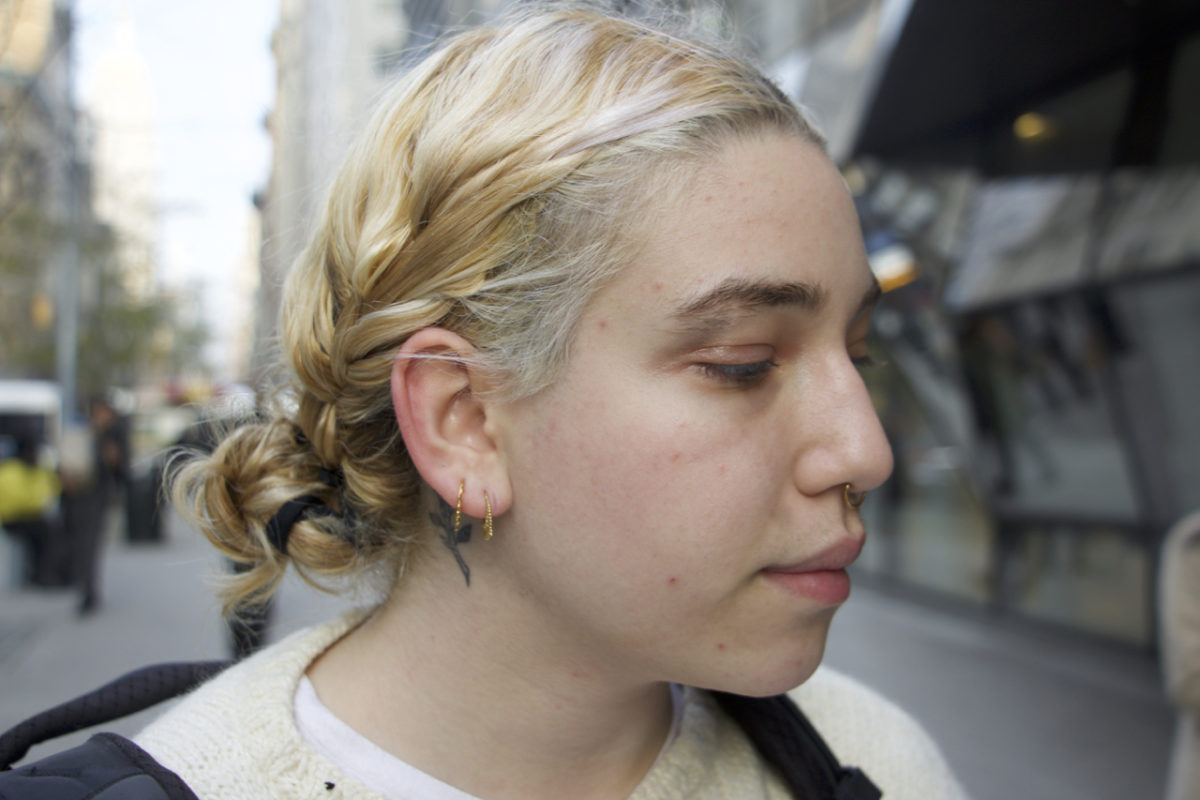 ---
Photos by Margaux Temmerman / Illustration by Ashlie Juarbe