Fashion on 5th is The New School Free Press' weekly fashion column showcasing the student's best and most unique looks of the week.
---
This week saw New Schoolers fighting back the cold with winter layers and eclectic thrift finds.
Left: Ellen Rust is a BA/BFA student at Parsons and Lang, majoring in product design and science. Right: Isabella Vega is transferring into fashion from communications design, and also minors in Japanese.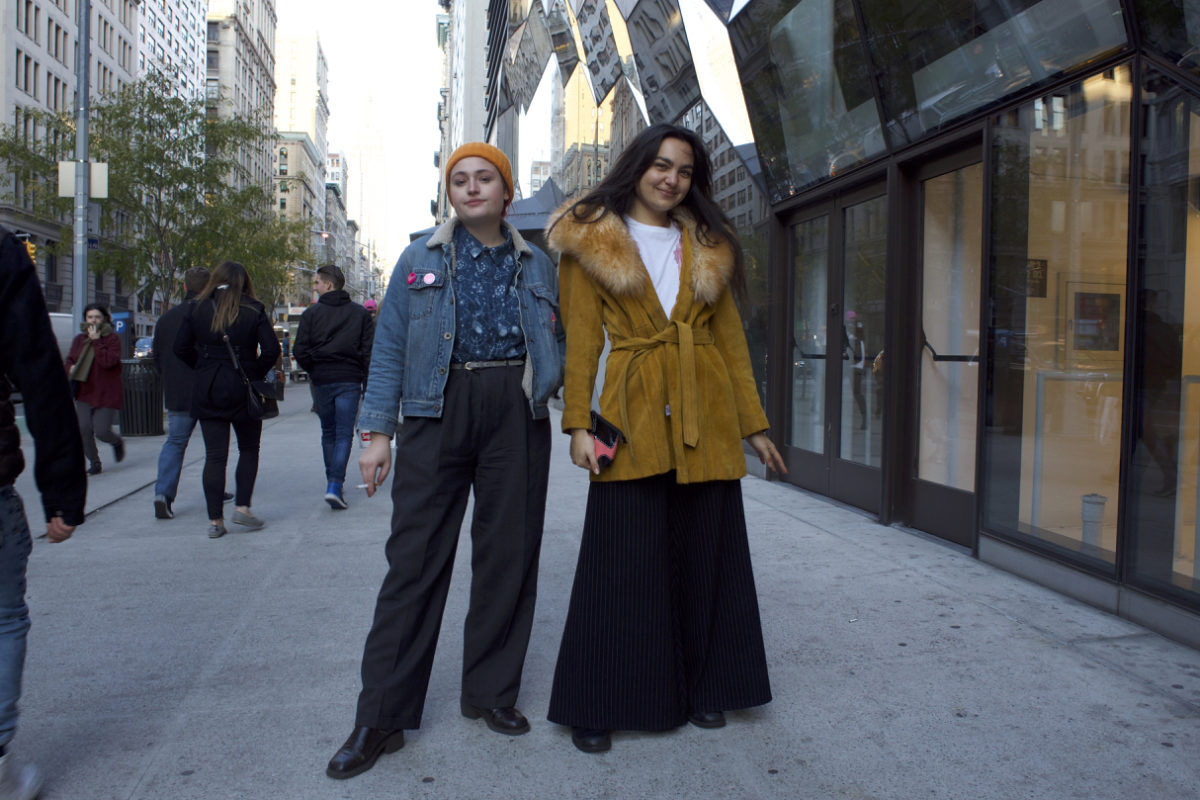 Vega wore a vintage mustard coat she got in Berkeley, California, pinstripe pants from Dollskill and a T-shirt she found on Depop. She carried a Benefit Cosmetics makeup bag. "I like to hunt on Depop and I only really buy vintage," Vega said. Her tip for hunting on Depop? "Look at people's accounts and look at their likes," she said.
Rust wore her grandfather's pants and a navy blue shirt she found in "the little boy's section" at Buffalo Exchange. She accessorized the look with a bright orange beanie and three pink badges – one from Planned Parenthood, one she found on the floor at Parsons, and one in the shape of an ice cream. "I'm in two majors where no one does fashion so I love seeing when people bring their style to these industries, and doing their own kind of thing," Rust said.
Dash Porter is a freshman at Parsons majoring in photography. Porter wore a bright ensemble featuring a vintage T-shirt, a jacket he thrifted at L-Train Vintage, and pants from Justin Bieber's Stadium Tour merchandise. "I love color. I'm a sucker for color, so I always like to stand out and pop out," Porter said. Porter accessorized the look with a black scarf, a cap from his cousin's brand, and a necklace he was given when he was born. "I found it recently because my mom likes to collect old jewelry, and I was like, 'Wow I have to take it, I'm leaving home' and this is something to connect me to my home," he said.
Selena Siyeon is a senior studying fashion design at Parsons. Siyeon wore a glittery top from & Other Stories layered under a dress from Urban Outfitters and a coat from Sandy Liang. "It's just a very fluffy winter fur coat. I don't wear real fur, so this is fake," Siyeon said. She added Converse sneakers, a Parsons tote, and a gold necklace to her look. "It's a heart necklace that you can break when you find your husband, so you can share the half with your husband. I just carry this all the time," she said.
Giannina Gomez is a freshman studying photography, but wants to switch to fine arts. Gomez stood out with her bright hair she dyed at home using Manic Panic in the shade Green Envy. "Some friends bleached it and then I put in the green dye. My nails are still green," Gomez said. She wore a vintage plaid jacket from a thrift store called The Discovery Shop in Eureka, California, and pants from Reminiscence. Gomez incorporated burgundy throughout her look with a hat and scarf her friend gave her. "I was just really cold and I'm sick, so I just threw this on," she said.
---
Photos by Camille Petricola / Illustration by Ashlie Juarbe