A panel on anti-Semitism held at The New School on Tuesday night drew criticism online and protest outside the event. Protesters handed out flyers and waved Israeli flags in front of the 66 W 12th St. building. Inside the building's 468-seat auditorium, Rabbi Alissa Wise, deputy director of Jewish Voice for Peace (JVP), urged attendees of the sold-out event to ignore any interruptions. Two people separately interrupted speakers throughout the event and were escorted out of the auditorium.
The panel was hosted in conjunction with the publication of "On Antisemitism: Solidarity and the Struggle for Justice," an edited volume of essays about anti-Semitism and "the global progressive fight for justice." The panel, moderated by Amy Goodman of Democracy Now!, included organizers from Jews for Racial and Economic Justice (JFREJ) and JVP. The majority of criticism was drawn by the inclusion of Linda Sarsour, a Palestinian Muslim American social justice activist. Sarsour has been criticized for her views on Zionism, including a 2012 tweet in which she wrote "Nothing is creepier than Zionism."
The New School released a statement three days before the event, acknowledging the criticism. "Our university stands squarely against anti-Semitism, and hosting this discussion is not intended to be nor should it be construed as an endorsement of any participant's views, perspectives or ideas on this or other topics," the statement said.
In a letter sent to New School President David Van Zandt and other administrators on Monday, members of the university's Jewish community wrote, "Linda Sarsour has no room on a panel discussing anti Semitism as she has neither the academic credentials, nor the Jewish lived experience."
The panel was sponsored by the New School's Creative Publishing & Critical Journalism program, JFREJ, JVP, Haymarket Books and Jacobin. Of the four panelists, three were Jewish individuals working with JVP and JREJ. Despite the Jewish identity of the majority of panelists, some felt that Sarsour's presence was a fundamental flaw.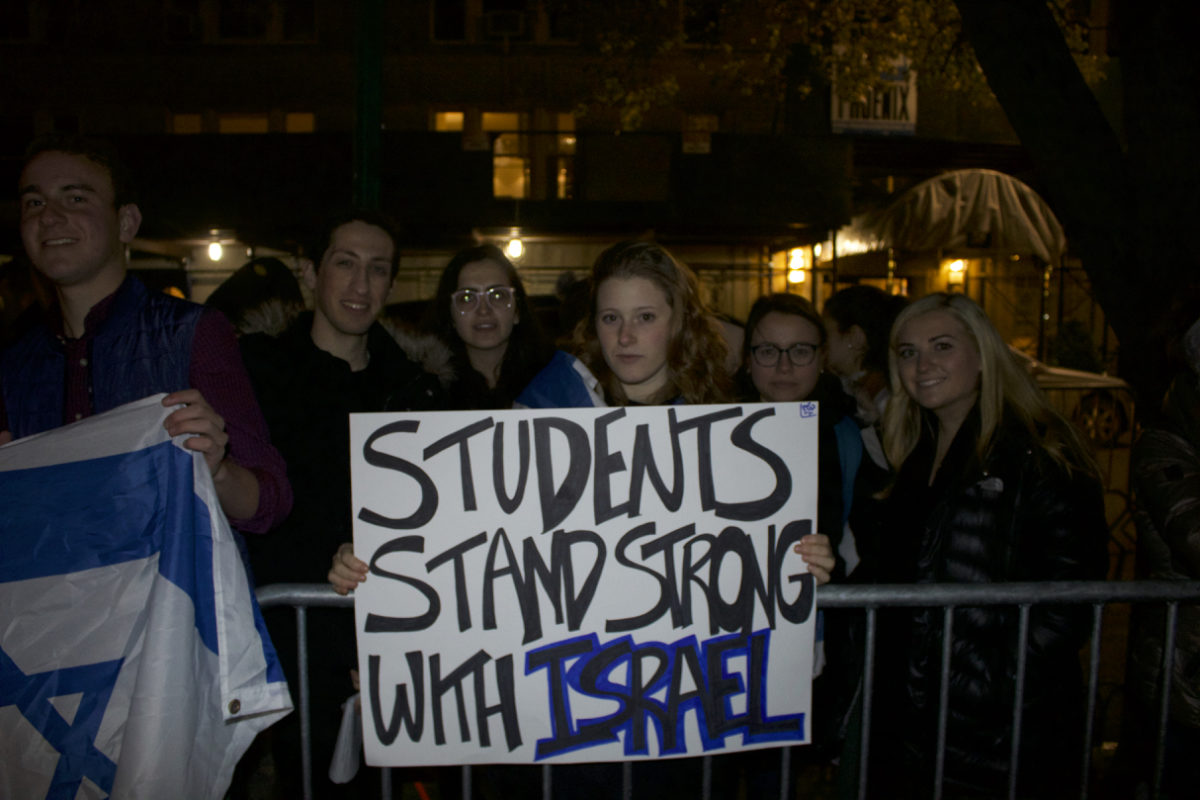 Behind police barricades on 12th Street, Parsons seniors and Jewish Culture Club members Hannah Schmelzer and Bentzion Goldman protested the event.
"I'm not sure how you can have a nuanced conversation about anti-Semitism and Israeli policy if the people to which this concerns are not even present to voice their opinions," Schmelzer said.
JVP's mission statement includes goals of "an end to the Israeli occupation of the West Bank, Gaza Strip, and East Jerusalem" and "a just solution for Palestinian refugees based on principles established in international law." The Anti-Defamation League described JVP as "the largest and most influential Jewish anti-Zionist group in the United States."
"As a Jew, I definitely understand the strong relationship with Israel that a lot of people have," said Jasper Skelton, a freshman at The New School who attended the panel.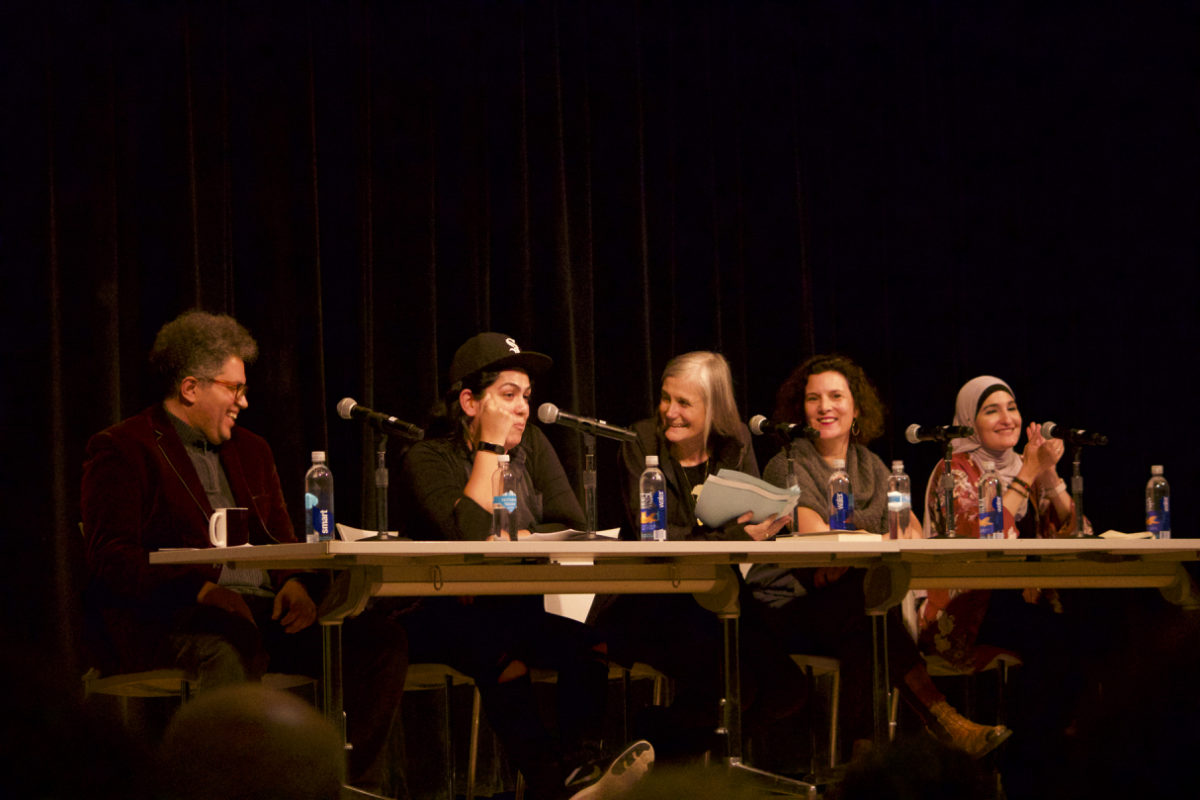 "I'm excited for the talk because people like Linda Sarsour and the other speakers bring a really good perspective to how we need to deal with anti-Semitism—which is a real threat—but through an intersectional lens," Skelton said.Serengeti Timungwa, a Lang junior studying politics and economics, said she has been interested in Israel-Palestine but that the subject is incredibly complex. The panel "made it very accessible to a group of people who it usually isn't accessible to," Timungwa said. "For example, I'm black, I'm also Muslim, I have no ties whatsoever to Judaism, but the way they approached it made it very relatable," she said. "I was able to relate to the persecution of Jews because Muslims face the same thing and also blacks face the same thing. The fact that they put a lot of intersectionality in that was very effective in getting the message across to people."
Panelist Leo Ferguson, community and communications organizer for Jews for Racial & Economic Justice, began the panel by defining anti-Semitism and outlining the risks of claiming all criticism of Israel is anti-Semitic.
At the panel, Sarsour responded to criticism of her presence by saying that excluding allies, which she considers herself, from the conversation was "a disservice to Jews."
"It's kind of like saying we've got to be critical race theorists to say 'black lives matter' or talk about combating anti-black racism, or saying you have to be a Muslim or an expert in Islam to want to combat Islamophobia. We would never say that about any other form of oppression, so why do we want to frame this conversation that only Jews or those who are experts in anti-Semitism can, in fact, want to combat anti-Semitism?" Sarsour said.
Rebecca Vilkomerson, Executive Director of JVP, told the audience that JVP "has increasingly become a home—a political and a spiritual home—for so many, and especially those of us who treasure our Jewish identity, but don't think that that requires identifying with a state that is practicing apartheid."
Susan Shapiro, a faculty member at The New School, published an op-ed in the New York Daily News referring to Sarsour as a "hatemonger" and "the left-wing's new hijab heroine." In an interview with the Free Press, Shapiro said that "as a Jew, and as a political activist," she has "spoken out loudly about any anti-Muslim sentiment" but felt that Israel faced a "disproportionate" amount of criticism, compared to Palestine.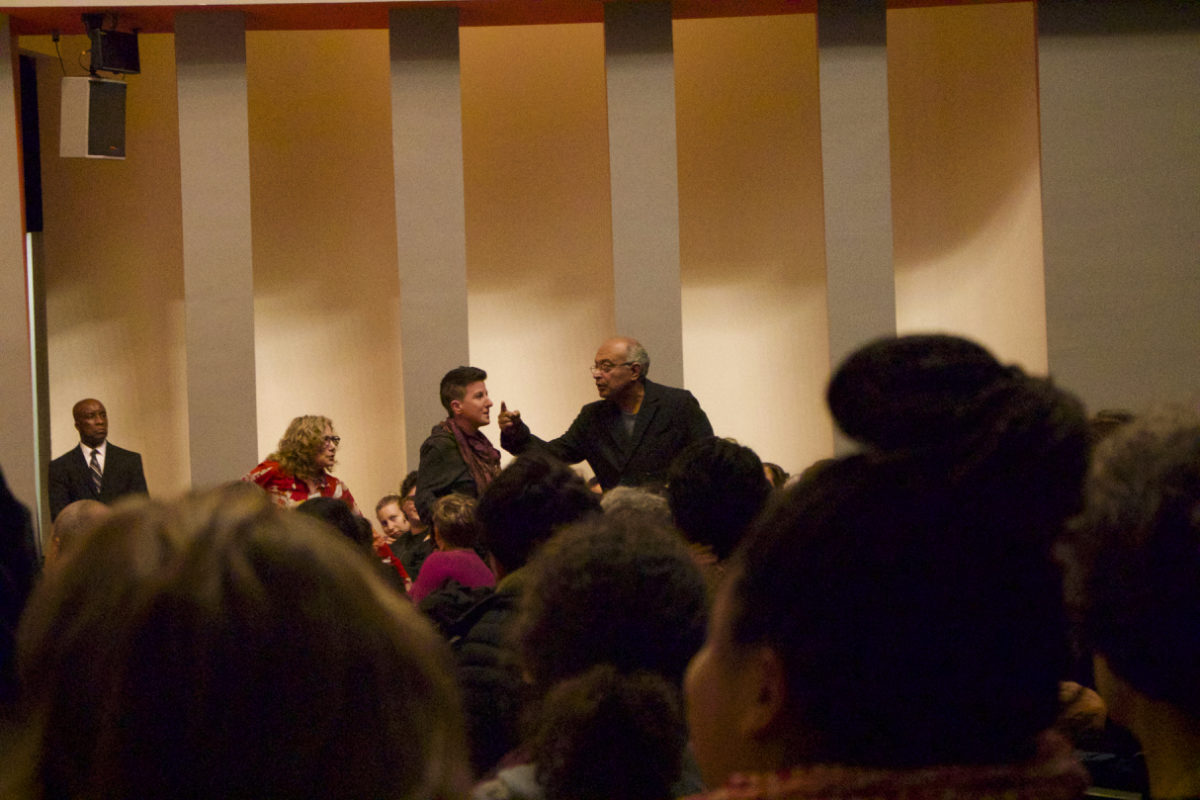 To Shapiro, Sarsour's presence on the panel was a step too far. "If [Sarsour] would have done a panel that was called 'Palestinian Self-Determination,' I wouldn't even have noticed," Shapiro said. Sarsour spoke at The New School on September 11, 2017 as part of the Race in the United States public lecture series. There was no significant controversy around that appearance when she guest-lectured on "The Social Construction of Race and Islamophobia."Criticism of the panel also came from alumni and donors. Last week, Tablet reported that New School donor Kenneth Bialkin had threatened to withdraw support from the university. On The New School's Facebook page, parents and alumni urged others to withdraw support from the university.
Outside the event, Goldman, the Parsons student, said the university needed to "take a little more discretion and responsibility in the fairness of opinions represented."
"We would love to see The New School both fund and run a panel that brings other voices in order to truly have a complete spectrum of voices represented," Goldman said.
The university's statement outlined plans to "move this discussion forward," saying, "The discussion around the November 28 event has raised a number of important questions. We look forward to exploring these and others in greater detail and hearing from a wide range of voices on this and related issues in the months ahead."
---
Photos by Anna Del Savio and Orlando Mendiola / Additional reporting by Orlando Mendiola