Rabbi Darkside, wearing a snapback that read 'NY State of Mind,' nodded his head along to a silent beat. He was trying to explain what it feels like to listen to hip-hop.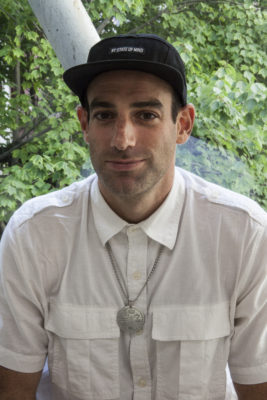 His actual name is Samuel Sellers and the moniker Rabbi Darkside was a name he was given growing up in Buffalo, New York. "It's what you get when you're the Jewish kid in a multiethnic rap group of 16 year olds," Sellers said.
Sellers calls himself a multi elemental hip-hop artist, meaning he emcees, makes rap records, writes songs, DJs and occasionally beatboxes. Sellers also said he's an artist educator who is looking at the energies in which the artistic and educational intersect.
He teaches poetry, music production, songwriting and DJing here at The New School, and is the co-founder of The Hip-Hop Re: Education Project, an organization which uses hip-hop to inspire youths from marginalized communities. Sellers has been involved in public education for 16 years.
"I think my participation in hip-hop culture really compelled me to want to go into education," Sellers said. "I knew I wanted to enter a career path that had purpose." The inspiration came from socially conscious artists, such as The Beatles, A Tribe Called Quest, and Mos Def, the music that he listened to growing up, from poetry, and from all the books he read.
He credits rap songs to his understanding of a close reading.
It started with A Tribe Called Quest's "Can I Kick It" where he recognized a sample from a song he had heard long before, Lou Reed's "Walk On the Wild Side.'"
"It was just loaded with so much information that was presented super craftily and wittily…I loved jazz and to experience some of those same sensations through music that could make you hyped and make you think," he said. "I wanted to be a part of the revolution, whatever that meant to me," Sellers said.
It's these elements that Sellers has brought to all his classes since his first teaching gig at Lang, "Hip-Hop Pedagogy and Practice", he said. He wanted to do more than just teach hip-hop history, he wanted the students to explore what the hip-hop classroom looks like.
This semester he's teaching "Hip-Hop: Skill, Style, Science," for the first time. The class looks at the genesis, the development, and the spread of hip-hop culture.
In class he teaches "the core + 4" which includes the core elements of hip-hop––emceeing, DJing, breakdancing and graffiti. Sellers added four additional elements to the experience: beat making, beatboxing, photography and journalism.
In his class, Sellers talks about narratives and the value that they have when displayed to a mainstream audience. Especially when living in a Hamilton musical era, and in a time where the Netflix show, The Get Down exists. "Who is repurposing [these narratives] and who do they benefit?"
"[Hip-hop] comes from young people who are by and large products of other diasporas. If you trace that timeline and those roots it takes you back through the great migration, through reconstruction, through Jim Crow, through the Antebellum, into the Middle Passage and back to West Africa," Sellers said.
This timeline expands and is a part of the history of the people of the United States, which is something that Sellers said is not taught in public schools. According to him, "to understand the history of hip-hop culture is to understand the history of America."
It's about examining the history that created these genres that form the family tree of Black American music.
"From work songs to spirituals to gospel to blues to jazz, funk, soul, rock 'n roll, and [eventually] hip-hop. A lot of these are musics of survival," Sellers said.
Sellers believes that this is not just found here in the United States, but a lot of the elements of hip-hop culture are found in places he's traveled to, like Kampala, Uganda as a cultural ambassador for the United States State Department.
In addition to what he teaches in the classroom today, a part of his repertoire is what he taught in the middle school and high school setting. From 2009 to 2011, he worked with a rap-based test preparation program for the New York State Regency exams, called Fresh Prep. He called it "very Hamilton-esque." Over the course of two years, he wrote 55 songs about U.S. history, global history, algebra, and English.
As for what's next, from here on out Rabbi Darkside expects to keep on growing and building on things he's already done. His last record, "Prospect Avenue," was a success and he hopes to build on that.
"I'm looking forward to going new places, making new connections…confronting the future with open arms, a head full of rhymes and a fiery pen," Sellers said.