As a part of The New School's new re-branding and visual identity project, the school unveiled a New School MetroCard in partnership with the Metropolitan Transportation Authority (MTA). The new MetroCards, which feature the new logo and are colored in the recently-created Pantone color Parsons Red, will go on sale to the public on April 20.
Ashley Bruni, The New School's brand strategist for Metrocard campaign, did not disclose the price the university paid for the campaign. According to the MTA website, card-based advertising campaigns can start at $112,500, assuming a minimum order of 250,000 cards.
Bruni said she got the idea after seeing another card sponsored by a museum. "We were thinking of different media we wanted to broadcast," she said. "We wanted it to be an image of who we are [as a school]. The school occupies the city in a unique way, where NYU might be feel more touristy; we have a more locals feel."
On the back of the New School Metrocard is a partial list of the university's programs and subject areas. "Rather than just having an ad," Bruni explained, "[we thought] why not be a part of the experience, all of our subject fields, including the different schools?"
Prior to the public launch, Bruni distributed 1,000 cards (none of them with any credit for rides) to students and faculty, and at rebranding events including the Water Tower "reveal" event on April 1, 2015.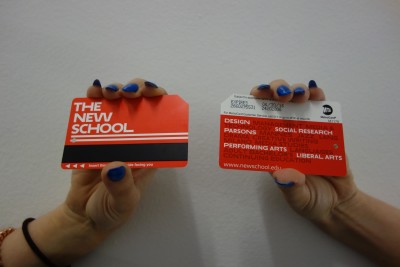 TNS Students can buy the cards now at the Welcome Center at 72 Fifth Avenue. They sell for $5.50, good for two rides ("We are taking care of the $1 fee for metrocard," said Bruni.)  Starting April 20, they will be available for sale at the Union Square Station, the Bedford Station on the  L line, the 14th Street Station for the F/M Trains, the #1 station on Christopher Street, and The NYU/8-Street Station for the NQR Trains.
"For people who aren't familiar with The New School, maybe a family who have just come for a tour or people who have some type of business in the Greenwich Village, they can get a sense of who we are and build our profile, at the same time," said Bruni.
Some students seemed to approve of the new Metrocards. "I like the New School red. It has a bit of pink in it," said Jasmine Wright, a senior at Parsons studying Integrated Design and Biology. "At least to my eyes, it looks very old school futuristic with the logo. To be honest I can't even read [the back of it], but when will I read my metrocard?"
"How cool is it to say that my school is on a metrocard?" said Ryan Khosravi, a junior studying Culture and Media at Lang. "I need one of those!"