The New School had the first night of its annual Lang Dance Fall Performance, on Friday at the New York Live Arts, Bessie Schonberg Theatre in Chelsea. Lights, designed by Jose Levasseur, scanned the stage as the audience sat to await the performance. A silver banner hung above the stage and the room filled with silence as three dancers in different shades of blue and silver began the first choreographed piece of the night, "Opening a Young Coconut."
This semester, choreographers Faye Driscoll and Sally Silvers worked with a group of New School students from Miguel Gutierrez's choreographic research course to create this year's Lang Dance Fall Performance. Together, they composed the six choreographies performed at the Bessie Schonberg Theatre. Both Driscoll and Silvers won the New York Dance and Performance "Bessie" Award for their choreographic skills.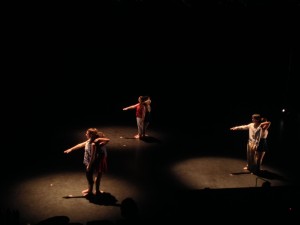 In an interview with The New School Free Press, Neil Greenberg, Lang's dance program coordinator, briefly spoke about the creative process behind the performance.
"Our program is centered on recent developments in the field," said Greenberg. "The choreographers are working in different points of departure but their work is stranded in investigation and experiment."
The choreographies were accompanied by short recordings of music as well as live singing, poem reciting, giggles and mimics of animal sounds or short shrieks.
In one of the performances, "Orbiting: Two Poems," performed and choreographed by students Seta Morton and Sasha Wolfe, the dancers approached a few audience members and whispered the poems "Tiptoe" and "Coming Up," by Ani DiFranco.
After the last choreography, "Rachel Never Showed," an enlivened audience applauded the dancers and production crew.
"A very thoughtful provoking piece," said Henry Villacorta, a sophomore at Eugene Lang College.
Javarius Jones, dancer and freshman at Eugene Lang, was as pleased and excited as the audience upon closing the first night of the Lang Dance Fall Performance. "We killed it," said Jones.