Thirteen years ago, when Eugene Lang College student Cecilia Frescas was six years old, her mother led her brood of six children across the border to the United States  from their native Mexico. The move was a risky and desperate attempt to give the children a better life, after the family's father had been murdered two years earlier. Today, Cecilia is a second-year global studies and politics double-major at The New School.  She is also one of the universityís undocumented international students.
The New School takes pride in its position as the university with the highest percentage of international students in the country 27 percent of the student population, according to 2012 statistics from U.S. News & World Report. While many of these students arrive from their homes with visas and other required documents, a number reside in the country without proper documentation. Although, students like Frescas have grown up in the United States, they still must register as international students.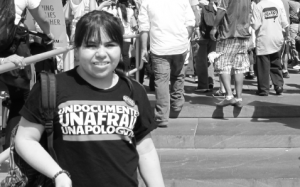 In June, President Obama passed an executive order to protect qualifying undocumented students from deportation. Because of this  law students like Frescas can speak to the Free Press without fear of legal punishment. Still, Frescas and other undocumented students say they face numerous hurdles.
"I think that President  Obama's [actions] are a step in the right direction," Frescas said. "I don't think, however, that these steps are taking care of the larger issue nor are they addressing the larger population of undocumented immigrants."
Alexandra Delano, the chair of the Global Studies program at  NSPE concurs, and believes Obama has not done enough to help undocumented youth.
"Enough would mean a comprehensive immigration reform with a path to citizenship to all undocumented migrants, not just the students but also their families," Delano told the Free Press. "Enough would be access to financial aid and scholarships for all undocumented students and for all those who benefit from deferred action and other measures in the future."
Together, Delano and Frescas have  established the New School DREAM Team. The student-led group hosts panel discussions and other events to raise awareness and visibility in the community. The organization also attends rallies supporting rights for undocumented immigrants. The Team collaborates with other groups in the city that represent undocumented students and immigrants, such as the NYU DREAM Team, The New York State Youth Leadership Council, a volunteer-run undocumented youth organization, and Make the Road New York, a non-profit support organization for working-class Latino communities.
The group is part of a movement that is now calling the New York State Legislature to approve the New York  DREAM Act, a law that would grant undocumented students access to state financial aid. Over the past decade, the issue of undocumented students has garnered wide discussion nationally, and states such as California, Texas, and New Mexico have passed DREAM Acts, giving undocumented students access to state financial aid.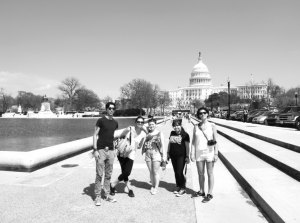 "The  New York Dream Act would open the doors of  higher education to deserving undocumented youth who have grown up in this country and are American in every sense except on paper," said Daniela Alulema, a New School student and board member on The New York State Youth Leadership Council.
Undocumented students, despite possibly having lived in the United States for the majority of their lives, are ineligible for state financial aid.  But if a student can pay for his or her own education with scholarships or personal funds, he or she may apply to universities. This obstacle prevents the vast majority of undocumented students from enrolling in institutions of higher education. According to the New York State Youth Leadership Council, more than 4,500 undocumented students graduate from high school in the state each year, but only 5-10 percent are able to pursue a college degree due to financial difficulties.
New School President David Van Zandt signed his name to an open letter last semester that lobbied for the passage of the DREAM Act.
"I have been encouraged by President Obama's support of the DREAM Act," Van Zandt wrote in an email to the Free Press. "In addition, the President's decision this summer to halt the deportation of undocumented students is a promising step towards increasing access to higher education for all students."
Van Zandt has also reached out to New York's  Governor Andrew Cuomo, expressing a desire to move the issue forward. "As I wrote last year to Governor Cuomo, allowing undocumented students access to financial aid and a path to citizenship not only welcomes diverse perspectives and enriches our society, but contributes greatly to economic growth," he said.
Like other universities across the country, undocumented students at The New School must register as international students. If  they can afford the tuition costs without financial aid the university does not discriminate, according to the International Students Services Senior Director Monique Ngozi Nri.
Undocumented Students Strive for Recognition
Immigration status is not part of the criteria for admission to The New School, Nri told the Free Press. "Once an individual is admitted, if they indicate that they are non-US citizens, they are advised of the appropriate immigration status for full time study," Nri said.
Activists agree that the financial burden is simply too great for most undocumented students.
Cecilia Frescas attended high school in New Mexico and once it was time to start thinking about college, she realized that the financial constraints of her immigration status would be a barrier while seeking higher education.  This was a turning point for her, and she decided to get involved in immigration activism.
Through her involvement, Frescas earned a scholarship from The New World Foundation, a community activism support organization.  Had I not been involved with that, I dont think I would have been able to go to college, she said. On a national level, the opportunity that Frescas has with her scholarship is a rarity.
Thus far, Frescas is the only one of her siblings who has attended college. But, because of  New Mexico's 2005 bill making undocumented students eligible for state financial aid including that from the Legislative Lottery Scholarship, which offers in-state tuition coverage for the state's high school graduates many of her high school friends have pursued higher education. In the battle for the rights of America's undocumented students, Frescas can claim to be a veteran. She concedes that the future remains fraught with obstacles and roadblocks. But she is determined to carry on the fight. "We didn't leave our family behind or come to the U.S. to just quit," she said.
With reporting by Tiffanie Drayton, Alvina Lai and Elizabeth Wu