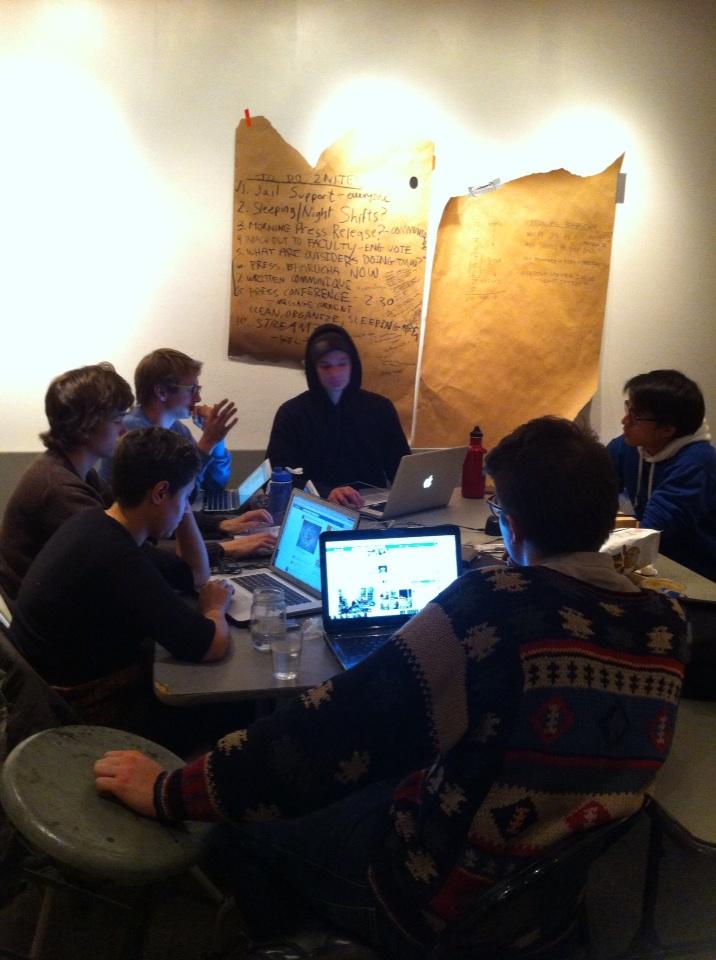 Eleven students from The Cooper Union for the Advancement of Science and Art continue to occupy the eighth floor of the school's Foundation Building on Tuesday afternoon, 24 hours after locking themselves into the building's Peter Cooper Suite in protest against Cooper Union President Jamshed Bharucha, his administration's handling of the school's financial situation, and the school's shift away from its historically tuition-free model.
Students for a Free Cooper Union, the student activist group that planned the occupation as part of a "Day of Action" against the administration on Monday, reiterated a series of demands in a statement released Tuesday morning. The group is calling for the administration to "stop pursuing tuition-based educational programs," as well as structural changes to the school's board of trustees and Bharucha's removal. In April, Cooper Union announced that it would begin charging graduate students for the first time in the tuition-free institution's history.
The student group has announced a press conference for 2:30 p.m. Tuesday at the Foundation Building, where they plan on addressing their actions, the administration's response, and Bharucha's role in particular. The president has yet to release a statement on the student occupation and spent most of Monday in his residence at the Stuyvesant-Fish House, where he held an emergency meeting with Cooper Union deans.
Shortly after students occupied the Foundation Building space on Monday, building maintenance attempted to break through an entrance that had been barricaded by the occupiers. Maintenance workers tried to push and drill through the barricade, but desisted after the students informed them that they were pressed up against the barricade and risking bodily harm.
Having secured their position, the occupiers spent the rest of the day updating social media outlets, communicating with fellow organizers on the ground, and reaching out to publications throughout the city for interviews. The group also released a university document, which it had obtained through anonymous sources, that explores the possibility of implementing tuition at Cooper's Albert Nerken School of Engineering.
"We wanted to take a different approach than last year," said Victoria Sobel, a Cooper Union senior who handled the majority of press inquiries. "We didn't want to be caught in the Cooper bubble; broadening our reach creates a more powerful conversation."
Early Tuesday morning saw a group of Cooper Union students, many of them freshman, occupy the fourth floor workshop area of the Foundation Building in solidarity with the occupiers in the Peter Cooper Suite. Building security forced the students to leave the fourth floor space later Tuesday morning; according to Sobel, one Cooper Union freshman said security threatened to call the police.
Students for a Free Cooper Union have also set up a livestream into the Peter Cooper Suite occupation. Sobel said the students hope that interest and support for the occupation will expand through Tuesday.
"We're hoping for a large public turn out and more coverage," Sobel said. "We're narrowing in on our target."