Brooklyn's In Our Hearts Tries to Redefine a Movement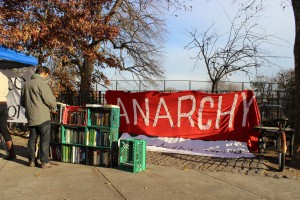 Every Friday — weather permitting — a free shop pops up on the corner of Marcy Avenue and Lafayette at Von King Park in Brooklyn's Bedford-Stuyvesant neighborhood. Residents are welcome to donate goods  and take goods at no cost. While passersbys look at the sidewalk with piles of neatly folded t-shirts and pants, bed sheets, and crates stuffed with old books and magazines, they cannot help but notice something that appears to be more than just a donation center. Some volunteers huddle underneath the white tent to stay warm, some help to fold clothes, and others hula hoop by crates of  books. Just behind the folded clothes stands a table with stacks of anarchist zines,  are two red banners hanging over head that read "ANARCHY" in hand-painted white letters.
This sometimes weekly event is hosted by In Our Hearts, an anarchist "network" founded  in 2005 by Thadaeus Umpster. The name "In Our Hearts" is from a quote by José Buenaventura Durruti Dumange, cofounder of the armed anarchist group Los Justicieros during the Spanish Civil War and a coordinator in the resistance against Francisco Franco; "We carry a new world here, in our hearts."
Anarchy has a long and storied past mostly known for a violent reputation and assassinations of a famous industrialist and even the president of the United States at the turn of the last century. But now, people like Umpster want to remake anarchy into a more socially accepted and viable mold.  Community is the new mantra. One corner of Bed-Stuy is the testing ground.
*****
The term "anarchy" comes  from the ancient Greek word, "anarchia," meaning "without a leader or ruler."
A 20-year-old social inquiry student at Eugene Lang College who considers himself  an anarchist, and asked to remain anonymous said,"Anarchy means to me what the word was intended to communicate — being 'without rulers.'  It is one of the most beautiful expressions of freedom — freedom from economic, political and cultural oppression," the student said. "At the same time, it means comprehending the reasonable and necessary limits of that freedom insofar as one is responsible to his or her community on a local and global scale."
Notable 19th century anarchist thinkers, such as Pierre-Joseph Proudhon claimed famously, "Anarchy is order without power."
It was during the turn of the last century that anarchist groups began to justify violent attacks. The slogan "Propaganda by Deed" became popular. Numerous assassinations and violent acts were traced back to different anarchists. On July 23, 1892, anarchist activist Alexander Berkman attempted to assassinate American industrialist Henry Clay Frick. There was also the assassination of President William McKinley at the hands of anarchist Leon Czolgosz, who shot him in the abdomen on September 6, 1901. Two domestic policy acts, the Immigration Act of 1903 and the Immigration Act of 1918,  passed, both of which suppressed anarchists from entering the nation. Anarchists were labeled as a domestic terrorist group in the U.S. and in 1919 were investigated by the FBI.
However, David Plotke, professor of political science at The New School for Social Research, says that despite what people think, violence as a means to an end was only ever a small part of anarchism.
"Some of them decide that acts of violence against property and then against persons are necessary to shock the community into recognizing the need for deep change," Plotke said. "So some anarchists become violent, not because anarchist doctrine in principle requires violence, but because repeated political failure leads them to imagine that violence will provide a way of exiting from their marginality."
In 2012, 111 years after the murder of an American president at the hands of an anarchist, In Our Hearts is disavowing the violence associated with their political beliefs.
The idea behind the creation of In Our Hearts, as Umpster said, was to foster a strong and positive community between different anarchist groups —  which have been historically, politically, and socially disenfranchised.
Rebekah Shiller, a member of In Our hearts, responded to the depiction of anarchists as being a dangerous group. "We are not a violent network. Most anarchists are nonviolence advocates," she said. "We have no desire to assassinate people, even though people out there think we are still a violent movement. Really, we just want to help people in need, and do it with no ulterior motive."
*****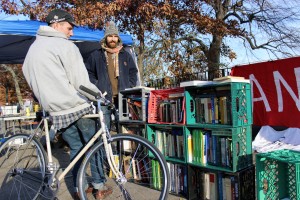 In 2007 In Our Hearts joined together with activist groups Food Not Bombs, North Bed-Stuy Cop Watch, and NYC Anarchist Black Cross Federation and acquired a storefront, calling it the 123 Space. The space was run by volunteers and funded by donation. While hosting events such as free food giveaways, and bike rides, it also had a library, a bike workshop station, and screen printing and sewing classes. Two years after it opened, they received an eviction notice and were forced to leave.
In response to the eviction notice, they wrote a blog post directed to local Council Member Al Vann. "For those who might look at our appealing to an elected official as capitulation, we reply that we're using a diversity of tactics," the post said. "In no way are we resting our laurels, hoping and praying that some higher-up will take care of this."
Members of the group were convinced that the eviction was because of their political beliefs. For Umpster, who thinks of In Our Hearts as a positive neighborhood organization, this hit hard.
"We are an anarchist group, but we are also a community group," Umpster said.
Coming to New York from Boston straight out of high school in 1999, he began to partake in protests in the city in 2000, around the time of the second Bush administration. He found a group of people with similar political stances through these protests. In Our Hearts was formed.
"We were doing free markets, free events calendars and organizing, but making an official name for our group made it easier for people to join us." Umpster said, straightening out his blue trucker hat. After squatting in the Bowery for a few months and then moving into the Bronx for a year, Umpster now resides in Bed-Stuy.  He lives on Nostrand and Lafayette, only a block away from the current free store. "When I moved into Bed-Stuy, my neighbors already knew me because of the 123 Space," he said.
Rocco Fama, another In Our Hearts volunteer, explained the reasoning behind free stores. "We want to build a gift economy. That is our goal with the free store and the community dinners," he said. A gift economy is one where people can bring items they no longer need, and take things they want or need, on a somewhat regular basis, creating a circulation of items replacing barter and market economies.
The 123 Space caught the attention of Rebekah Shiller, an ex-high school Physics teacher and self-described anarchist, three years ago. Shiller, like many other members of In Our Hearts, leads a seemingly regular life in addition to being part of the anarchist group. After going to one of the community dinners, she became involved. Soon enough, she began hosting the dinners herself.
While simultaneously disassociating itself from anarchism's violent past, In Our Hearts is instead trying to help out others through public service.
After Hurricane Sandy hit New York, In Our Hearts immediately began taking donations by bike over to the Occupy Sandy "headquarters" at the St. Luke and St. Matthew Church at 520 Clinton Avenue. They brought their donations along with their anarchy banner to the church.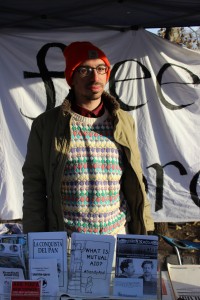 "I've been here since it started, and have been to the Rockaways a couple times, providing people with hot food and helping them clear the streets," Shiller said, with her blonde hair held away from her face in a loose braid, and her round-rimmed glasses resting on the tip of her nose.
The donation center at the church comprises a row of fold-up tables with hundreds of food items, clothes, diapers, and tools ready to be shipped to the areas that are still without power and heat — including Red Hook,  Long Island, Breezy Point, and The Rockaways. Shiller joined up with Occupy Sandy and Food Not Bombs and headed to the Rockaways with hot food for the cold night.
*****
Alfonso Quattlebaum is a local resident and subway repair worker for the MTA. He moved into Bed-Stuy seven years ago and now lives on Nostrand and Lafayette. Sporting a navy blue MTA jacket, he came to the Free Store to drop off old coats and check out the books. He shook hands and greeted Krystal Woods, another In Our Hearts patron. Woods dropped off donations as well, including old sweaters and t-shirts.
Initially, Quattlebaum was put off by the group's anarchist beliefs. However, he ignores that aspect and simply acknowledges this as his neighbors just having a stoop sale.
"I see this as a community event, religious and political beliefs aside," Quattlebaum said.
Despite the commitment to their cause, Umpster and Shiller would undoubtedly be pleased with Quattlebaum's acknowledgement of the group bringing people together.
"When people realize we are an anarchist group, which I don't think anybody can ignore with our zines and banners, we explain to them what the word anarchy means," Shiller said. "A lot of people say they feel the same way; they just never labeled it under anarchy.
For Shiller, the initial willingness of a stranger to learn about a different political belief is just a start for In Our Hearts.
"When we got here today, there was a man who owns a daycare around the corner, and a few of his friends here are waiting to help us set up."
With reporting by Emiliano Bombieri-Morales