Taki Theodoracopulos is a modern-day aristocrat. The shipping heir and conservative media mogul is affable, genteel and tanned. He is a fixture at black tie parties and a member-by-marriage of Austrian royalty. His waves and paparazzo and chit-chat with Manhattan elites often grace the New York Post's Page Six. His wit is swift, but his political views raise eyebrows even quicker.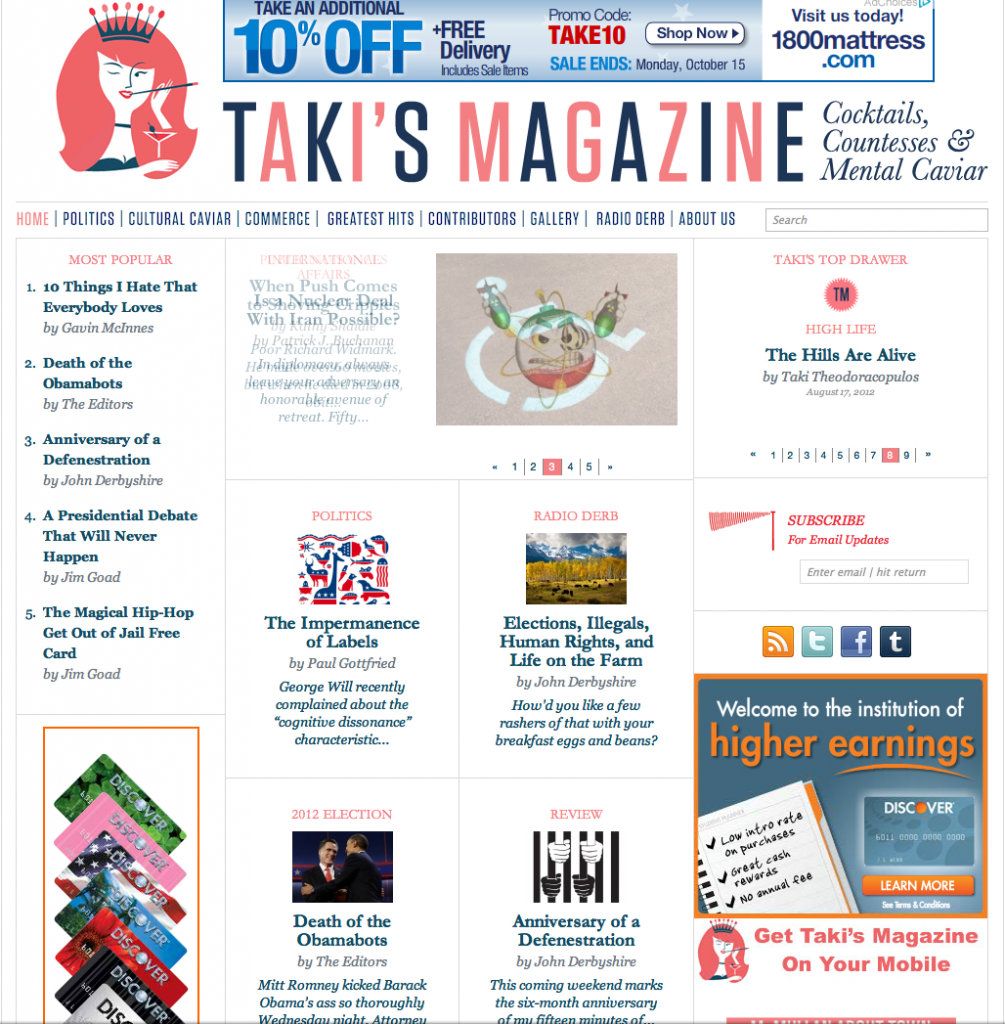 Theodoracopulos started Taki's Magazine —  also known as TakiMag —  in February 2007, as a self-described platform for light-hearted online political content. But liberals and conservatives alike have called his commentaries racist. For example, in a 1997 column for The American Spectator, he referred to New York's Puerto Rican population as "a bunch of semi-savages…fat, squat, ugly, dirty, dusky, and unbelievably loud." And he openly considers himself a "soi-disant [so-called] anti-Semite."
Theodoracopulos is a different beast compared to the average man's definition of a conservative. He is unapologetic about his wealth and equally guiltless about his controversial choice of words. He isn't the populist Tea Partier, vexed by Obama's change. He is not the family-values Republican that Americans saw in the form of Michele Bachmann and Rick Santorum. He is the rancorous "one-percenter," the spectre that haunts the minds of Occupiers everywhere.
The Free Press asked Theodoracopulos to discuss his magazine, career and personal life, and he declined on numerous occasions. But the friends who claim to know him best have shared their thoughts on the conservative publisher.
Many associates describe him as an adventurous husband and businessman, and his surname has done little to hinder his successes. He is the son of former Olympic rowing gold medalist John Theodoracopulos and grandson of late Greek judge Panagiotis Poulitsas. And he has been in an open marriage with Austria's Princess Alexandra Schoenburg-Hartenstein since 1981.
"I don't think he would hurt a fly," said Peter Brimelow, founder of conservative website VDARE.com, Taki's contributor and a close friend of Theodoracopulos, told the Free Press. "Except through infidelity, of course."
Theodoracopulos and his wife have raised two children together, daughter Mandolyna, 35, and son John-Taki, 31. Following contact attempts to all four family members, only Mandolyna agreed to comment. She describes her father as "a normal person who regrets not having lived in the 17th century."
Theodoracopulos' foray into journalism began in 1967, when he covered the Vietnam War for National Review. He gained notoriety ten years later, as a high society gossip columnist for The Spectator, a London weekly magazine. He co-founded The American Conservative with Pat Buchanan in 2002 and was the publisher of Right Now!, an English political magazine that circulated from 1993 to 2006.
TakiMag is a far cry from the libertarian Tea Party movements that have populated cable news since 2010. Far-right contributors like Pat Buchanan and white nationalist Jared Taylor post frequently. Vice magazine veterans Jim Goad and Gavin McInnes joined in April 2009. This past June, the latter wrote an article entitled "The Turd World," declaring that, "Muslims are simply way behind us. They're merely slower than us — 'retarded,' if you will."
Following the death of Florida teen Trayvon Martin in March, yet another contributor faced racism allegations. Former National Review columnist and TakiMag contributor John Derbyshire posted his article, "The Talk: Nonblack Version," to the website on April 5. The titular "talk" mocks conversations in which black family members warn one another against being racially profiled in public. Derbyshire advises his own children not to "act the Good Samaritan to blacks in apparent distress" and to "avoid concentrations of blacks not all known to you personally."
Both liberal and conservative members of the media lambasted the article. Even Derbyshire's own colleagues at National Review criticized his writing. "Not only was it baldly racist; it was, of all things, dumb," wrote Daniel Foster, one of the magazine's columnists, in a piece entitled "A Very Long Post About John Derbyshire."
National Review editor-in-chief Rich Lowry remarked in an April 7 editorial that "The Talk: Nonblack Version" was "so outlandish it constitutes a kind of letter of resignation." And with that, Derbyshire was excommunicated from the conservative print mainstay.
But despite the controversy — or perhaps because of it — Derbyshire's writing career continues on Taki's. His September 6 article, "White People Are Pussies," criticizes white Americans and Europeans for not aggressively preserving their heritage and protecting their homeland.
Brimelow said that American leftists are too sensitive regarding racial issues. "The American Left [has] very emotional people who go off the stick at first hint of political incorrectness," he said. "Everything John wrote can be defended on the basis of truth and was provoked by utterly outrageous claims that blacks are in danger from whites in modern America."
For Theodoracopulos — and most other TakiMag contributors — racial commentary extends beyond black and white issues, according to New York Observer writer Drew Grant, who has long covered the socialite publisher. She told the Free Press that, during an interview with Theodoracopulos, he openly referred to the Saudi royal family as "towelheads" and slandered Jewish people. Once Grant told Theodoracopulos that she was Jewish herself, he attempted to smoothen the infraction. "He can kind of say these things and you're not even noticing that he's saying something so highly offensive."
Mandolyna insists that writers at Taki's Magazine are not racist. "Just because there are more football and basketball players that are black than there are black Nobel Prize winners, and we happen to point this out, does not make us racist," she said. "Just good reporters."
With reporting by Niko Nelson & Harrison Golden