A plea for fangirls everywhere to scale down their obsessions
We all have that stage where we obsessively fangirl over something. For me (and I can't believe I'm admitting this) it was at age 12, when I discovered Good Charlotte.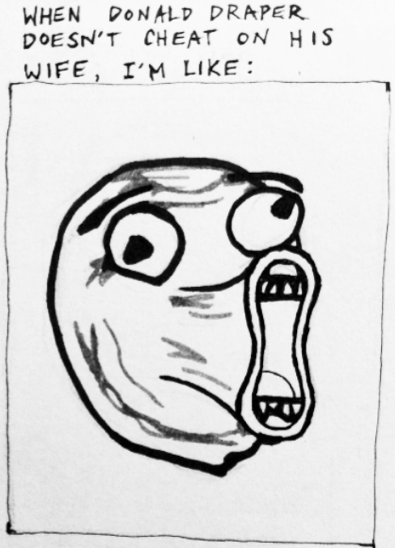 To say I was a big fan of the band is to put it lightly. I wallpapered my bedroom with pictures of the band until you couldn't see the purple paint on the walls. I bought almost every piece of merchandise they sold, including a set of autographed bobbleheads still hidden in my closet, in the original packaging. I listened to their CDs so many times they started skipping. I wore their name proudly every day — whether it be a T-shirt, hoodie, or just a patch on my backpack. In school, I was called "the Good Charlotte girl."
I thought my Good Charlotte days were pretty bad until I first logged on to Tumblr, a.k.a. the gathering of the fangirls, last summer.
A fangirl is someone who takes that one thing he or she (usually a she, though) really loves — such as a celebrity, television show, or band — and loves it to the point where their life revolves around it. They are extremely possessive of it — no one else can care more than the fangirl. Unfortunately, fangirls have taken to blogging their unhealthy obsessions on Tumblr, the microblogging website that has given us hilarious memes and fascinating photos, like "Lab Bums" — and it needs to stop. These fangirls aren't fans anymore; it's a race to be the most obsessive, and it isn't genuine or fair to actual fans on the website.
Tumblr fangirls don't need to stop loving the things they fangirl over. But they need to change how they fangirl over it. They need to stop focusing on what shoes their favorite actor is wearing, and remember why they became a fan. They need to remember how funny the actor was in that one movie no one else saw, or that dramatic performance that brought everyone to tears. They need to let that inspire them, rather than the actor's favorite food.
Identifying a fangirl blog on Tumblr is easy. Look for pages and pages of images, videos and .GIFs — animated images — of the same band, television show, or celebrity. Then, you'll notice the timestamp on each post is within minutes of the one preceding it. Fangirls do not sleep; it cuts into blogging time. Under each post, you'll see a comment that attempts to express the fangirl's feelings on the content; it is usually a jumble of capitalized letters — the virtual version of a squee ("SHDLKFAHSLKDFWIEORH"), a .GIF (one of an exploding volcano with "OVARIES" written over it in block text seems to be pretty popular), or a frustrated phrase that doesn't make any sense (like "stab me in the feelings") or is borderline stalkerish ("let me love you").
Of course, there's nothing wrong with listening to the same band for weeks on end, or paying an absurd amount of money for a concert ticket in the nosebleed section. Everyone has that one thing they enjoy so, so much, everything else seems to pale in comparison. Look at the people who attend ComicCon every year in elaborate cosplay. For these fans — the "normal" fans — their obsession is based on what we should be obsessing about — how genuinely good something is, and for them, it's meaningful. Penny Lane said it best in "Almost Famous": "We are not groupies. Groupies sleep with rock stars because they want to be near someone famous. We are here because of the music, we inspire the music. We are Band-Aids."
Tumblr fangirls are a different story. They're extreme to the point where it isn't about the subject they are fangirling anymore. It's a competition — who can post the most pictures, who can get a reaction from a band member or actor via Twitter, who can attend the most concerts or know the most quotes from a show, or who can make the most ridiculous comment professing their undying love. A "Parks and Recreation" blog can't just feature pictures of Amy Poehler and Adam Scott being cute in character. Instead, a "Parks and Rec" fangirl needs to post picture after picture of waffles, with maple syrup oozing down the sides, a hefty dollop of whipped cream on top, because that's what Leslie Knope (Poehler) loves to eat, so by default it's what the fangirl loves to eat. Any other fans who don't blog about waffles just aren't good enough.
These fangirls need to cool it. Their method of fangirling is cheapening whatever they are trying to obsess over, and it makes everyone involved uncomfortable. I feel embarrassed to admit I even have a Tumblr, because I don't want to be associated with these fangirls. It's hard to find an authentic fan blog focused on anything I'm interested in, too, because they're all too extreme. When I search "The Black Keys" on Tumblr, I want to discover some interviews or videos of a recent concert, not a photo of drummer Patrick Carney with the caption "He's so cute and precious I want to put him in my pocket and kiss him." And I know I'm not alone.
So here's what I'm proposing, Tumblr fangirls: if you want to run your blog "right," you need to make your posts about why you're a fan of so-and-so. Post that really inspiring speech Amy Poehler gave at Harvard last year, or that clip of The Black Keys's first San Francisco show, where they killed it despite the tiny crowd. Everyone will see that you appreciate why these people are in the spotlight, rather than simply their good looks or style — and it will make your blog so much better. Hell, maybe even the best fan blog on your subject.
And hey, fangirls, while you're at it, open yourselves up to other bands, to other television shows, even to other fans. Who knows — you might find a favorite new artist, or end up making a new friend with a shared interest. And you won't creep anyone out in the process.