The Center for Public Scholarship and The New School for Drama co-organized a panel discussion on April 28 at Tishman Auditorium for the launch of the latest issue of the journal Social Research: An International Quarterly, covering the subject of politics and comedy.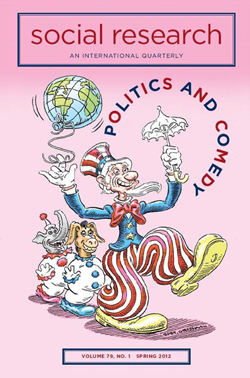 Media critic and author Marvin Kitman moderated the panel, which included Nancy Giles, a writer and commentator for CBS News, Tim Carvell, head writer for the comedy program "The Daily Show with Jon Stewart," and Victor S. Navasky, journalism professor at Columbia University and former publisher of The Nation.
The panelists discussed prominent themes in the world of media and journalism today, from objectivity, bias, and the role of commentary in the GOP debates. Kitman and the panelists spent most of the night grilling Carvell, who has written news satire for the Daily Show since 2004.
When Kitman asked about the popular belief that the viewers of "The Daily Show" are more informed than followers of other news outlets, Carvell responded modestly.
"We're an augment, a garnish — parsley, if you will," he said.
Carvell also discussed how the writers come up with jokes. They begin with "how do we actually feel about this?" he said. "And then [they] go forward."
Giles said she related to Carvell's writing approach. "If I'm not laughing," Giles said, "I'm not going to try to force that."
As a CBS News commentator, she has discussed issues ranging from the Trayvon Martin case to Hurricane Katrina. At the beginning of her segments, she said, she often alludes to her own emotions.
The panel also discussed how "The Daily Show" frames the news clips it presents.
"When Fox News does this, it's pretty evil," Kitman noted. And yet when "The Daily Show" does it, "everyone laughs."
But Carvell defended his show. Before an episode's taping, he said, a department collects clips while a researcher ensures that each clip is phrased in the fairest possible manner.
"We work hard not to [incorrectly present clips]," he said. "It's not funny if it's not true."
The panelists also analyzed political cartoons and their role in both comedy and the media. Navasky, who is currently working on a book about political cartoons, said it seems cartoonists get away with more controversial humor in their works, as opposed to comedians and television shows.