Arrested student activist on OWS and police violence
On March 17, the NYPD arrested New School for Social Research student Cecily McMillan during a rally at Zuccotti Park commemorating the six-month anniversary of Occupy Wall Street. The incident made international headlines, with much of the attention focused on the police's treatment of McMillan — who reportedly suffered a seizure and sustained numerous physical injuries.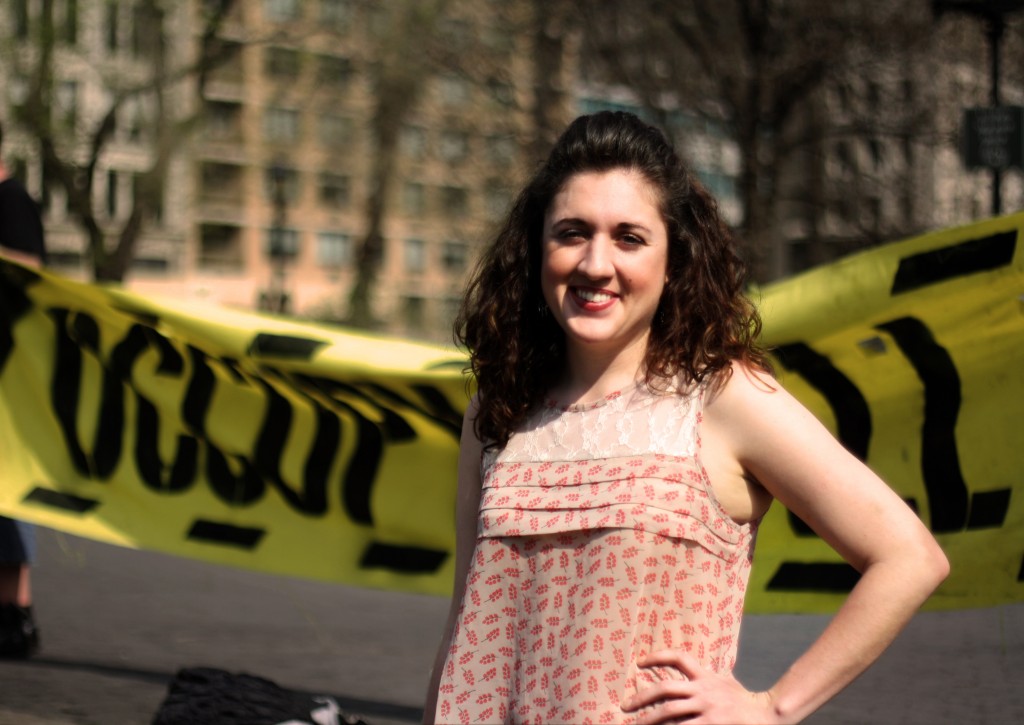 The 23-year-old McMillan is currently in her first year at NSSR, pursuing a graduate degree in liberal studies. As a student activist, she took part in the 2011 demonstrations protesting the Wisconsin state legislative bill that stripped public workers of their collective bargaining rights. In New York, she has participated extensively in the Occupy Wall Street movement, and was a facilitator at November's student-led occupation of The New School study center at 90 Fifth Ave.
McMillan spoke to the Free Press over the phone on March 22, discussing the Occupy movement and the events of the preceding several days. While she said she could not discuss the circumstances of her arrest extensively due to ongoing legal matters, including a felony charge of assaulting a police officer, she reiterated a commitment to nonviolent protest and her belief that she would be cleared of all charges.
New School Free Press: Firstly, how are you feeling?
Cecily McMillan: I'm just exhausted. My body is bruised from head to toe, and I've been in and out of three hospitals, two clinics. I guess I am one who seeks therapy through action, so I've been a little bit active and a little bit around, but I'm being urged to rest and it's probably a good idea.
NSFP: What were you doing in Union Square today?
CM: I was going to make a statement about my condition, but also about my innocence of the charges being brought against me. I expect to be fully vindicated, despite other accusations. And I also was going to reiterate publicly my long-standing commitment to nonviolence and really urge people to channel how upset they are into making sure that they remain nonviolent; to take that energy, and to realize what's at stake here in the sense that if we do not remain nonviolent, if we allow ourselves to be misconstrued by the police, if we do not undergo the right training and precautions to make sure that nothing we ever do can be seen as violence. If we don't do that, then what's going to happen is that this whole movement is going to be toppled.
NSFP: So you do believe, as far as Occupy Wall Street is concerned, in a commitment to nonviolent protest, correct?
CM: I've maintained a commitment to nonviolence, and fought for that in Occupy Wall Street, since August. Every project I've ever undertaken has had a stern statement about that.
NSFP: Touching upon the occupation at 90 Fifth Ave., which you were a part of, I recall that you did maintain a commitment to a constructive and non-violent approach.
CM: Yes, and I believe that all actions I have ever committed have been within that confirmation of nonviolence — including the recent.
NSFP: Your story has been covered worldwide. What has that experience, over the past week or so, been like for you?
CM: Shocking. I, myself, have not seen the videos; I've only seen the one of the alleged elbow, and once again maintain my innocence of the charges. I haven't seen the ones that my friends say have me passing out and fainting.
NSFP: Do you recall undergoing a seizure? Because that's what has been widely reported.
CM: I have not watched the footage of what happened. Some of it I remember, and some of it I don't remember.
NSFP: What about physical injuries? It's been reported that you suffered a broken rib.
CM: I have been legally advised not to give details about my medical condition. However, I can say that I have extensive bruising all over the body, including my left eye. I have to wear a bandage currently around my ribs and my knee. I've also been documented with a head injury.
NSFP: Could you talk about what you were doing down [at Zuccotti Park] that night, in terms of your commitment to the Occupy Wall Street movement?
CM: It is important for me to stay clear of talking about specifics because my lawyer tells me it could really unintentionally compromise my criminal case. I can say that I had just arrived at Zuccotti Park to meet up with friends.
I think it's really meaningful that this event has brought attention to what has been a long dormant issue in the United States. I think that people are taught to trust police; I always have. I was in Madison, when the police stood by us…
NSFP: Madison, Wisconsin? During the entire collective bargaining issue?
CM: Yeah, I was there for those protests, and the police were ordered to remove us. They came out in rank-and-file, they were very scary, and they showed up and they said, "We have been ordered by Governor Scott Walker to remove you, but tonight we will be sleeping with you!" And I thought, "Oh my God. This is awesome."
So I do believe that the police are a part of the 99 percent; the rank-and-file, for sure. I think the way that they're organized, it's difficult; they are organized by rank in New York City, and they're unionized by rank, which makes it very difficult for bottom-up accountability. A lot of the rank-and-file I've talked to are very sympathetic toward the Occupy movement. So it's hard to imagine exactly what happened that night.
I'm also really glad that the Trayvon Martin incident is finally bringing so much attention to the problem of stop-and-frisk, and I think that one of the first steps to making OWS a true 99% movement is recognizing that the police brutality we're experiencing, that I experienced, has been experienced so much in those communities. It's not enough for OWS to speak out about police brutality toward protesters; it's been a long-standing problem within many communities.
NSFP: You mention the police brutality that you experienced. Can you elaborate?
CM: I think there are a lot of disconcerting things around my arrest. Many people have seen the video, and in many ways it speaks for itself.
I will say that the violence I experienced that night is nothing compared to the violence that many communities experience and have experienced. I read a really jarring statistic recently that said every day, six New York City students are arrested — as in minors in our public education system — and out of those six, five are black or Latino. And I would say that I'm glad that my experience could bring police violence to the forefront, but we have to think about it beyond protesters and Occupy Wall Street and we need to recognize that this is one event in a series for Occupy Wall Street, while there are whole communities that have had this as their reality for years.
We've got to make sure we're targeting police violence not just from the point of protesting and occupying. When we're talking about protesters and police violence, we're talking about an infringement upon our Bill of Rights — and that's very important. But we've got to make a connection to this systematic violence — what is police brutality really getting at? A lot of it is crime and poverty, and that relates to economic brutality.
NSFP: What are your connections to the student movement? A lot has been reported about your family history.
CM: My grandfather [Harlon Joye] drafted the constitution for the Students for a Democratic Society, and he actually attended The New School for Social Research. I think Hannah Arendt was still teaching.
NSFP: President Van Zandt spoke briefly about your situation at the university town hall on March 20, saying the school had reached out to you. What kind of outreach have you received from the university?
CM: Tim Marshall and David Van Zandt have both reached out to me personally, and said that if there was anything I needed or anything they could do, to not hesitate and ask. Several members of the New School faculty have reached out to me, students have reached out to me.
NSFP: What kind of messages have David Van Zandt, Tim Marshall and faculty members sent you?
CM: Utmost support. I was really worried, given that I'm being charged with a felony, that there could be problems with my financial aid. I was really worried. And then I remembered, hell, I'm at The New School. They are really upholding a commitment to social justice, to civil disobedience. Really, really supportive.