Zipping around the streets of New York, the New School Bike Task Force, a newly formed group of students, created a university-wide sustainable bike program to promote a greener, faster and more efficient way to travel.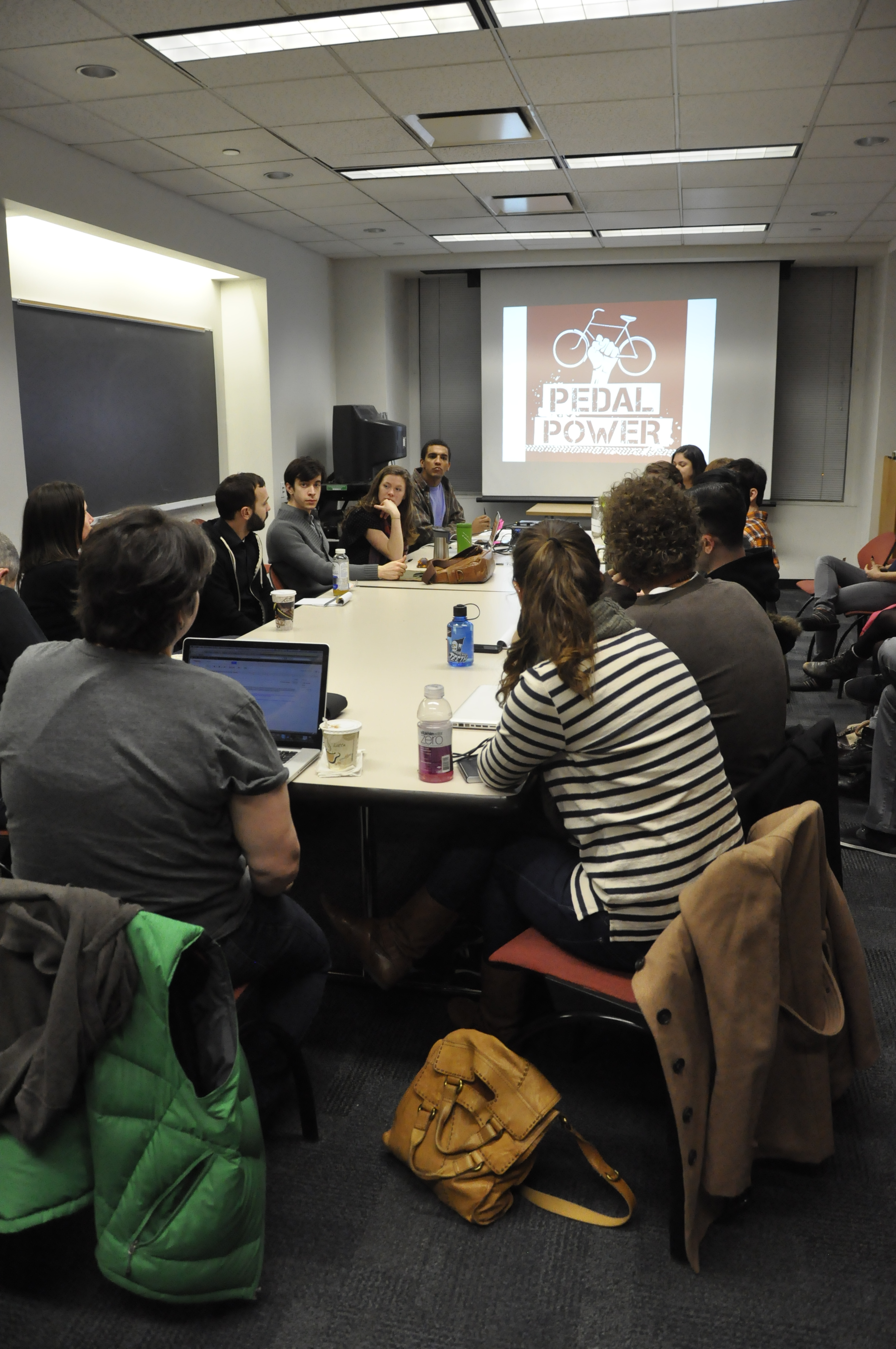 The project began last year when Jane Pirone, a Parsons faculty member and avid cyclist, realized that there was a lack of bike culture at The New School. Pirone thought more should be done and wanted to bring bicycling into the classroom. She decided to develop a bike program, not just for Parsons, but for the entire university.
"The bicycle is the perfect bridge for cross-collaborative projects," said Pirone. "You can talk about fashion with the bicycle, product design, architectural design, urban planning, communication design, design and technology — the whole gamut."
Last fall, Pirone launched an Urban Bike course at Parsons, in which students used design to explore the biking lifestyle and culture, drafting sustainable ideas for new and more efficient ways to park and use bicycles.
The initiative inspired the Planning Sustainable Cities class taught by Lang Professor Nevin Cohen. Eager to embrace the project, the class began to draft a new bicycling plan for The New School, which included revised rules and regulations for student cyclists. When the semester ended, the students, still intrigued and enthusiastic about the project, decided to continue working on the bike plan and formed an independent study group, The New School Cycling Sustainable Initiative (CSI). They hope that the university will adopt their bike plan once it is completed.
"Lots of universities have bike plans," said Lang junior Gemma Richardson, who took Cohen's class and is now on the CSI. "It's sort of strange that The New School doesn't. But if this plan goes through, to my knowledge, it would be the first student-written bike plan. By the students, for the students."
Pirone, The New School CSI, and several other budding groups of passionate cyclists came together to create The New School Bike Task Force, which meets collectively once every month and functions through the Department of Sustainability. Members of the task force have discussed new ideas for urban bicycling and looked at ways to encourage biking among members of The New School community.
"We're even working on student discounts at some of the local favorite cafes and eateries for presenting your bike helmet," said Richardson.
Since the tread hit the pavement, both Pirone and the CSI group have applied and received grants from The Green Fund to bring more cycling culture and awareness to The New School. The Task Force is already planning several events, from a bicycling speaker series to advocacy and safety events at The New School's upcoming Earth Week.