An estimated 300 people gathered in Union Square on Tuesday afternoon for a rally that attempted to revive the momentum of the Occupy Wall Street movement.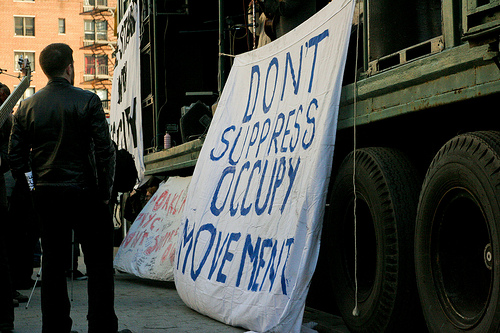 The event, organized in the wake of the eviction of the Occupy London encampment on Monday night, culminated in a march down to Zuccotti Park in the Financial District where the global Occupy movement started on September 17, 2011. It has been a dormant winter for the movement in New York, particularly since the November 15 eviction of Zuccotti Park. But it appears as though the momentum may return with a student day of action slated for March 1.
NYPD rerouted the protesters several times as they made their way downtown from Union Square, chanting "don't suppress OWS." The march went off without any major confrontations between police and protesters like those seen over the course of last fall. Once at Zuccotti Park, protesters initiated several "mic checks" and many lay down in the park as a form of protest.
The rally began at around 4 p.m., as people converged on the north side of Union Square to watch a retinue of musicians and activists march up to the podium. Folk legend Peter Yarrow, of Peter, Paul and Mary, kicked off the event, performing several songs including Bob Dylan's "Blowin' in the Wind."
Susan Sarandon addressed the audience and Noam Chomsky recorded a audio message for the protesters. Retired Philadelphia police captain Ray Lewis spoke briefly of his involvement in the movement's fall protests and managed to ignite the crowd with his tale of how he discovered Occupy Wall Street, and how it had inspired him.
"I realized that you were not sleeping out there for tickets to a ball game, or tickets to a TV show, or even to get a job at Wall Street," Lewis said. "You were sleeping out and enduring those hardships for social justice."