FADE IN:
INT. ROMNEY CAMPAIGN HEADQUARTERS – NIGHT
Republican Presidential Nominee MITT ROMNEY, 65, peers out a small window in the bathroom of his suite.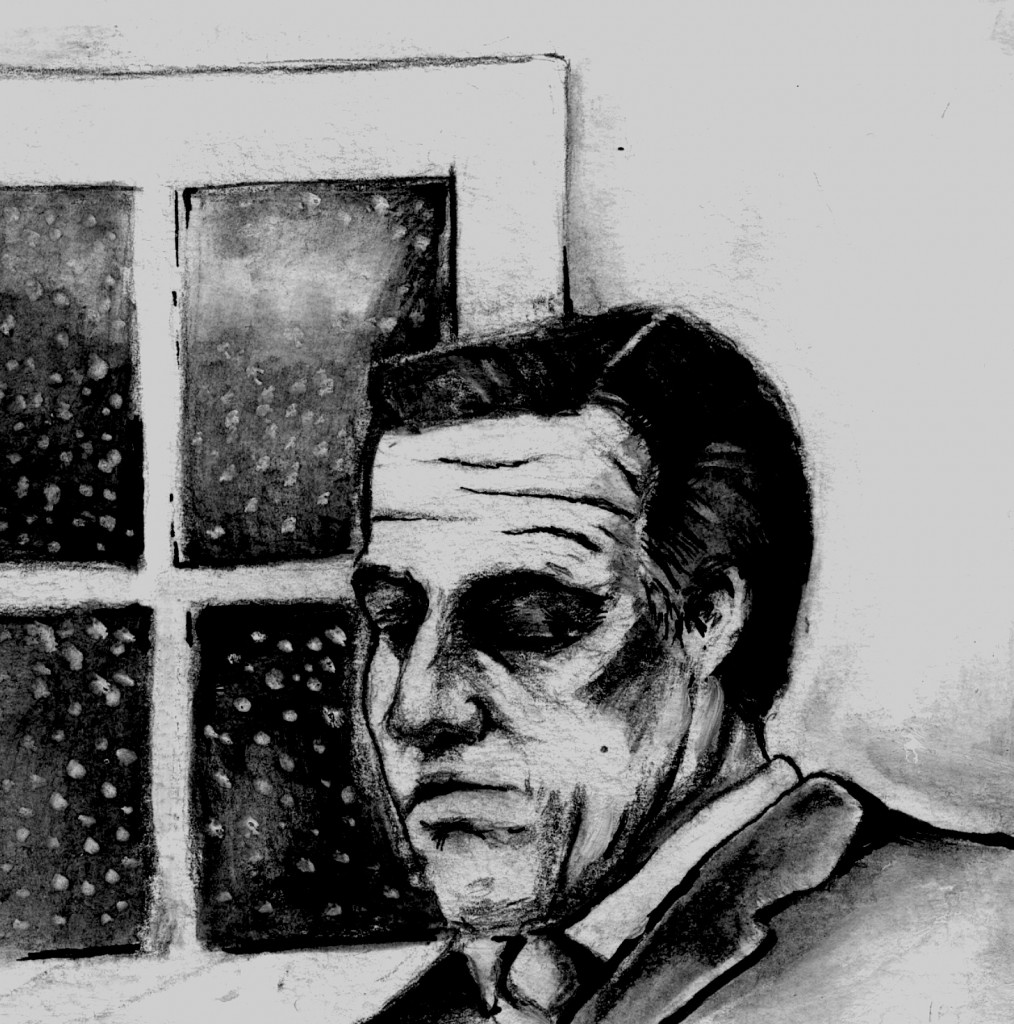 CARD: TAMPA, F.L. NOVEMBER 6, 2012.
EXT. ROMNEY CAMPAIGN HEADQUARTERS – NIGHT
The night sky is clear, filled with stars, most noticeably the "W" formation of the constellation Casseopeia.
MITT (V.O.)
Are you there God? It's me, Mitt.
INT. ROMNEY CAMPAIGN HEADQUARTERS – NIGHT
Mitt looks up at the stars dreamily.
MITT (V.O.)
My name is Mitt Romney and I approved this direct-to-Heaven message. And, yes, Mitt is my real name.
Mitt laughs. 
MITT (V.O.)
Those were for Gingrich and Blitzer. Speaking of Speaker Gingrich, you might want to get him one of those magic pens like they had on "Men in Black," where you could wipe out your memory. He really needs it.
Mitt's smile fades.
MITT (V.O.)
Rhoades says we may be in for a long night. Do you think I'll get to be president?
Mitt reaches out, touching the window.
MITT (V.O.)
There were a couple of times I wondered whether I was going to get a pink slip. Iowa, South Carolina. There's no question that politics ain't bean bags. But we had a 50-state strategy, told our story to the American people, and we won. I don't want to lose now. As you know, my father wanted to be president. And he lost. I saw him march with Martin Luther King. And he never got this close. I can't get this close and lose, for Pete's sake.
Mitt removes his hand from the window and sits on the closed toilet.
MITT (V.O.)
I'm not good at losing. I'm good at firing people. But, hey, I like being able to fire people who provide services to me. I'm good at speaking French. Though I tried to keep that last one on the QT during the campaign. Don't wanna upset the bourgeoisie, you know?
Mitt laughs, heartily.
 MITT (V.O.)
Still. I will not apologize for America! I don't apologize for America because I believe in America. I believe in an America where millions of Americans believe in an America that's the America millions of Americans believe in. That's the America I love. That America won't reelect this president. Will they, God?
Mitt looks up again at the stars.
MITT (V.O.)
Now, you know I've said some things during this campaign that I didn't really mean. OK — a LOT of things I didn't really mean. Like that I'd consider Hunstman for VP if he endorsed me. Like that my dog likes fresh air. Like that I've been a hunter pretty much all my life.
Mitt stands and returns to the window.
MITT (V.O.)
But that's what I had to do God. Besides, I've always been a rodent and rabbit hunter. Small vermin, if you will. So it's not like I lied. I did what I had to do to protect free enterprise, capitalism, limited government and federalism. I refuse to believe that America is just another place on the map with a flag. We stand for freedom and opportunity and hope. Not socialism.
Mitt begins pacing around the spacious, moonlit bathroom.
MITT (V.O.)
I don't believe you want to see the Greatest Nation on Earth become a European-style welfare state, where I'd have to apologize for my success, redistribute my wealth and watch as my grandkids are dragged into liberal-minded hedonism. And I don't believe it's your will as a just and mighty God that Barack Obama continue being our president. Just like the Santorum campaign believed it's not your will that a woman be president. And, between you and I, I don't have a bone to pick with you on that one. I'll tell you what, 10,000 bucks that Sarah and Michele don't have a full brain between them? $10,000 bet? And Hillary? If Thatcher was the Iron Lady, she's the Diamond Dragon. No. I know what you want. The Republican Party knows what you want. You don't want gays getting married. You don't want people to have health care without working for it. You don't want convicted felons to be able to vote. You don't want the bitter politics of envy giving my capital gains to government programs that prop up the poor. Do you God?
He stops, returns to the window, closes his eyes and presses his face to the glass.
MITT (V.O.)
No. I know you don't. You're going to downgrade the Obama presidency today, God. Mitt-mentum is back. I could feel it building these past few weeks. I know you know the 99 percent is just upset they didn't work hard enough to be able to buy a camel to ride through the needle's eye into your kingdom. Which is why I know you're doing everything you can to ensure that I'll become the 45th president of the United States. Just like you gave those evangelicals the what-for by making me the nominee. You did make enough of them hold their noses and vote for me today, didn't you God? Of course you did. We're simpatico, my friend.
Mitt opens his eyes and smiles. A moment of silence passes. Then, a knock at the door.
RHOADES (O.S.)
He's at 254. Ohio too close to call. Michigan too, maybe. You need 'em both, Governor, or it's over.
Mitt's smile fades.
MITT (V.O.)
Are you still there God? It's me, Mitt. I know you're there God. I know you wouldn't have missed this for anything! Oh, and I've been practicing my four secret handshakes. So when I'm done down here and enter the third level of Heaven, I'll be standing ready. Thank you, God.
RHOADES (O.S.)
Governor?
MITT (V.O.)
Just a second, my friend. We have plenty of time. I'll get there. I'll do it in the order I want to do it.
RHOADES (O.S.)
They're calling Michigan for Obama.
Silence.
 RHOADES (O.S.)
Sir? We need you now.
Mitt blinks rapidly, staring up at the "W" in the sky.
MITT (V.O.)
Thanks an awful lot…
FADE OUT.
A graduate of Ithaca and Dartmouth Colleges, where he studied Screenwriting, Craig won second place in the 2005 Final Draft Big Break international screenwriting competition with his original screenplay, "Zoo Day." He currently spends his days at The New School as Manager OF Campus Visit Programs and his nights in an open, but not-legally-sanctioned, marriage with Newt Gingrich.